Wendy Stuart and Guest Co-Host Stella Door Present TriVersity Talk Thursday 7 PM ET with Featured Guests Michelle Trowel land Tami Haught
Wendy Stuart and guest co-host Stella D'oro will be hosting TriVersity Talk this Thursday at 7 PM ET with featured guests Michelle Troxell and Tami Haught.
TriVersity Talk! is a weekly web series with featured guests discussing their lives, activism and pressing issues in the LGBTQ Community. With TriVersity Talk!, the goal is to laugh and learn.
TriVersity Talk! Is part of TriVersity's ICARE Initiative. ICARE stands for Increasing Community Awareness through Relevant Education. ICARE Programs are generously funded by The Greater Pike Community Foundation.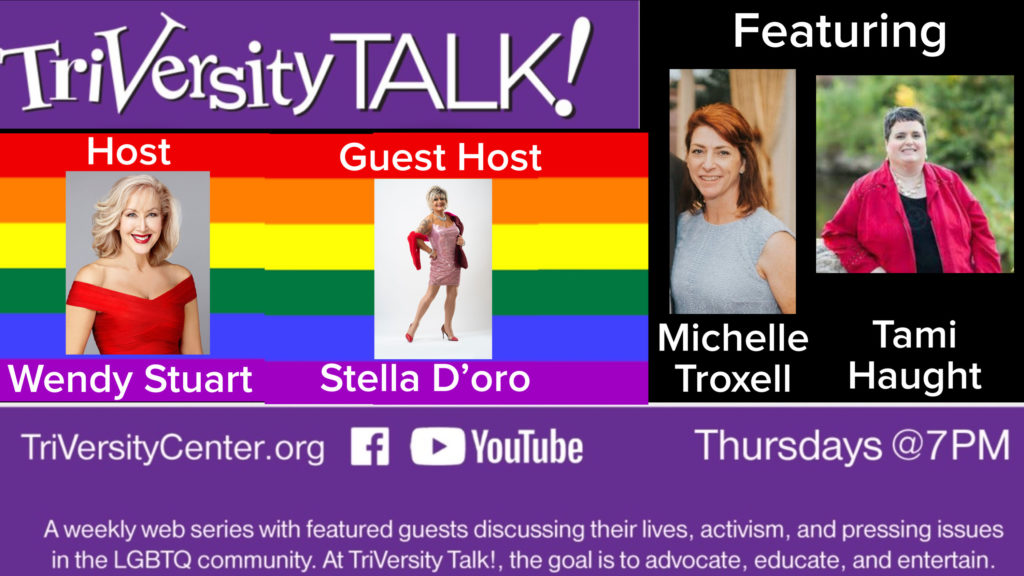 Stella D'oro (John Sefakis) worked for many years at HBO, The American Lung Association (as Manager of Corporate Promotions and Licensing) and Thirteen/WNET as Associate Producer of MetroARTS/Thirteen while maintaining his ties to the dance and theater world. He is also very active in the fight against HIV. He was on the Community Advisory Board of the New York Blood Center for 10 years, and a member of the Global CAB for the HVTN and HPTN (HIV Vaccine & Prevention Trials Networks) and part of Project Achieve for 27 years. He began his volunteer work with Project Achieve in 1993 and participated in Achieve's Project Explore (VAXGEN's HIV Vaccine Trial) in 1998. He has been doing outreach to the LGBTQIA+ nightlife community for over 17 years as Stella D'oro, the Queen of Vaccine (and currently the Queen Mum of Vaccine). Stella's facebook page attracts a huge number of the young LGBTQIA+ community, and by posting and tagging their pictures at events, and performing at venues such as Barracuda, Therapy and Industry Stella reinforces to the club goers the message of staying safe and healthy and provides information and opportunities for the community to volunteer to help find a cure for HIV. A member of the original ACT-UP Housing Committee, he was also a GMHC buddy and team leader, a member of (APAL) AIDS Prevention Action League and SEXPANIC!, which was formed to protest the harassment of the gay community by the Giuliani administration in NYC. Stella entered the film business 40 years after John, with stints in Tales of the City, Younger and Ray Donovan, before COVID-19 hit. As for retirement, remember this: "Once you stop, everything drops!
Our show this week will be a discussion on HIV featuring Michelle Troxell of the Positive Women's Network, HIV Criminalization Reform Work and educating community officials on the current science of HIV and combatting stigma surrounding HIV and Tami Haught is managing director of The Sero Project a network of people with HIV and allies fighting for freedom from sigma and injustice, as well as assisting state advocates to educate community members, allies, and legislators on the impact of HIV-specific legislation
Watch TriVersity Talk! Live on Thursday at 7 PM ET on Youtube here:
Or on the Triversity Talk! Facebook page here:
https://www.facebook.com/75258021683/posts/10159769073526684/
The official website for the TriVersity Center may be found at https://www.triversitycenter.org