Karyn White: "Taking Care of Unfinished Business" by Eileen Shapiro
In the summit of her musical career, singing sensation Karyn White suddenly disappeared from the music world. On top of her game, and the pinnacle of success with songs exampling, "Superwoman", "Secret Rendezvous", and "The Way You Love Me", Karyn was taking over the planet. Her debut album, produced by LA Reid and Babyface, achieved platinum status, and she was nominated for two Grammy Awards, and a host of others, as well as making musical history as the first female artist to have the first three solo releases from their debut album hit #1 on the Billboard charts. Her second album was produced by Jimmy Jam and Terry Lewis, featuring the hit "Romantic" which also hit number #1 on the Billboard charts. Then mysteriously in 1999, Karyn White's angelic voice was silenced.
Now the singer, actress, producer and real estate extraordinaire is back full force, with a vengeance, having produced, and starring in a new musical film entitled, "Gale & the Storm." The film is closely based on her own career incorporating music, disillusionment, love and a happy, feel good ending. She has already released the first single off the album from the film called, "Lame Excuses." Seriously picking up where she left off, Karyn explains her absence from the industry while she is creating her own new musical destiny and taking care of some "Unfinished Business."
After being absent from the music industry for more than a minute, what inspired you to return to singing and recording?
I was inspired to return to the music industry for two major reasons. I had unfinished business to take care of as an artist. As you know I left the music industry at the height of my career and left a lot on the table. It's time for me to reclaim my voice, my artistry, and my name. This time I want to do it my way. Although the big machine isn't behind me I'm prepared to be Superwoman and do it all. I also see there is a need for music to inspire and lift people up. There is a need to create songs that inspire others to win and achieve. There is a need to have music that speaks to the experiences of all people. There is a need for music for the soul and I want to provide that. I am prepared to join other artists committed to feeding music to the hearts of all people.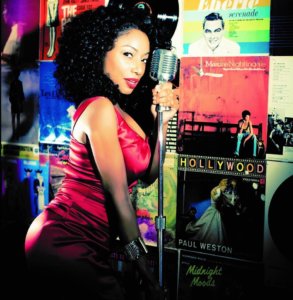 You had the world pretty much at your fingertips with Grammy nominations, you made history as the first female to have three solo releases from a debut album go to number one, you charted heavily, what made you decide to leave the industry in the first place?
In life we all have hard choices to make. I had to make a tough choice; would I be there for my daughter after a hard break up or would I storm ahead in the industry leaving her in limbo. I love music and I love being an artist however, I take motherhood very seriously. So I decided to invest in Real Estate and pursue a career that allowed to me to be there for my toddler and participate in her life whole-heartedly. I also needed space to process and grieve my own losses away from the limelight. I decided that it was the the best way I could at the time.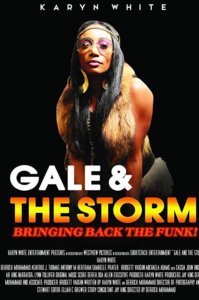 Now you've come back hard and with a vengeance, producing and starring in your own movie, "Gale & the Storm"…what was your motivation to take on such a project?
I have always loved cinematography in every aspect. I enjoy great screen writing, interesting camera work, and dedicated acting. I decided to learn about it vigorously. First training as an actress by diving into the craft. Then I began to look into screenwriting and I fell in love. I wanted to be a part of the whole process of making movies. I wanted to make real movies that told authentic stories. This is how "Gale & the Storm" was born. It is loosely based on my life and a mix of another colleague in the industry. My business partner Derrick Muhammad and I began to work on our first major project. It's been an amazing adventure.
Please give us a little insight as to the theme and the music from the film.
I was listening to Childish Gambino and it was homage to the Funk! That set the theme. I was talking with my writing partner Derrick Muhammad and we both said Let's make it Funky! "Gale & The Storm" bringing back the Funk!!! Lol I think it's a travesty that we abandon our natural treasures. Black folks invented ragtime, jazz, blues, gospel, soul, r & b, funk, hip hop and now we are chasing Pop! So Sam Smith, Adele, Bruno Mars come around and make hits off of what we left on the side of the road. So we chose Funk music to pay respect to James Brown, Rick James, Parliament, Funkadelic, Sly Stone.
'Gale & the Storm" is all about bringing back the funk. The film explores the life of Gale, a world-renowned artist who stepped away from the industry for several decades. Many intricate details of her story lead to this occurrence. The demise of her band and the betrayal from her boyfriend Julian were just a few reasons. She then meets our other main character Hannibal. He is an innovative producer. Together they begin a journey to bring back the funk and make a stunning comeback.
You have just released your new single, a kind of anthem and relevant song for today's woman, called "Lame Excuses", please explain why you chose that song from the film?
I chose "Lame Excuses" as my first single release from the soundtrack because it embodies the straight up, no nonsense personality of Gale the main character. In the movie, she knows what she wants and what she won't put up with. She knows who she is as a person and what she's had to overcome to be this authentic. Gale is not going for Lame Excuses from anyone about anything. She likes her life straight up with no chaser. I also think there are lots of people who are tired of Lame Excuses; they want to go for what they truly want in love and in life. In this way there is a little of Gale in all of us.
What are your goals and future endeavors looking like?
I love to balance my life and go after my dreams. It's all about strategy and pushing forward with me. I have so many future endeavors on the horizon. I'm headed out on tour in South Africa; this will kick-start more touring and promoting the Movie Soundtrack. There are so many music goals from exploring jazz to releasing more singles while continuing my personal song catalogue. I'm also continuing with the momentum of "Gale & the Storm. So I will be writing, producing, acting, and doing a stage play in Dallas. (Head over Heels) I also Rehab houses. It's all in a day's work for a superwoman.
Do you plan on touring in support of the sound track album that accompanies the film?
Yes, I definitely plan on touring to promote the soundtrack for "Gale & the Storm." I'm eager to show my fans what's been up my sleeve. I also enjoy stretching myself as an artist. This soundtrack definitely explores a variety of vocal styles within the world of Funk and R n B. Touring is a necessity for sure.
Can you recall the proudest moment in your career thus far?
My proudest moment was receiving an NAACP Image Award for being a positive image for my community and abroad.
While you were away from the music industry, you didn't exactly sit still. What were you doing creatively during that time?
I explored many artistic avenues while away from the music industry. I actually made a name for myself selling and designing custom houses with KLW Properties. It allowed me the ability to really use my creative side; refurbishing furniture, creating decor, and finding amazing pieces and creating a vision was my muse for many years. I also began to hone my craft as an artist holistically. Dabbling in various musical genres and exploring my artistry was still a passion during these years. I fell in love with cinema and acting and devoted myself to the learning process that lead me here. Now I have a movie, a soundtrack, and an artistic movement.
Currently you've set out to take care or some unfinished business, please explain?
Yes, I'm all about handling unfinished business. When I set my mind to something I work feverishly until I achieve my goal. I owe it to myself and my fans to produce the music of my soul. I've had so many life experiences and I've grown as an artist. It's time I share that with the world in a big way. Pick up from where I left off if and handle this unfinished business.
Follow Karyn White on Twitter @Karyns_World
The official website for Karyn White may be found at http://www.KarynWhite.me