Kenny Wilkerson – "Rockin' Recipes For Autism"
Nova Rex's Kenny Wilkerson is celebrating Autism Awareness Month in April by offering his highly acclaimed book, "Rockin' Recipes for Autism", a cookbook infused with recipes from some of the coolest and iconic musicians on the planet. The book also includes larger than life photographs and favorite memories from these legendary rockers including members from the bands of Whitesnake, Poison, Ozzy Osbourne, Nova Rex, Evanescence, Stone Sour and more.
A portion of the proceeds will go to "We Rock for Autism" and organization in support of music therapy programs, so every book can help with children on the spectrum receiving music therapy and more. Kenny and I shared questions and answers regarding his inspiration for creating the book including the fact that Gunnar, his own son was diagnosed with autism…..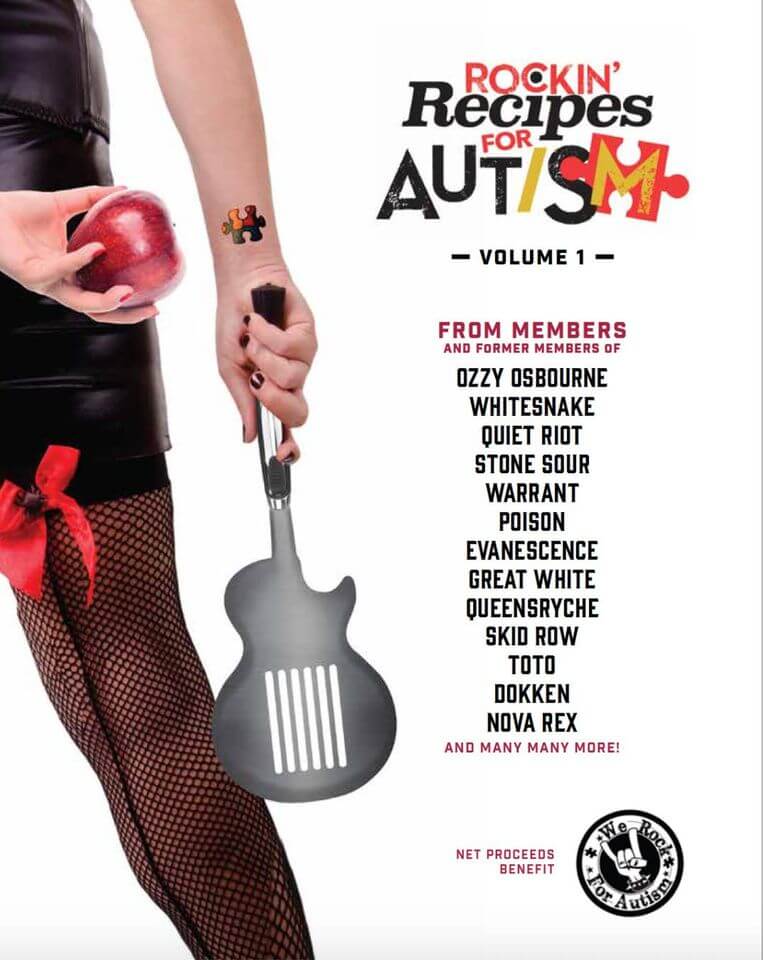 What inspired your book Rockin' Recipes for Autism?
My son, Gunnar. I learned early on that he was a little different from other kids his age. I dedicated the book to him plus I know a lot of musicians and I met up with a great charity. Plus, who doesn't like to eat.
What are/were some of the challenges raising your son and having a career in the music industry?
Those are both big challenges; raising a son with a disability or not and being a full-time musician.  Being on the road away from my son and my family was always a challenge.
How were you able to get these recipes from these legends of Rock?
I've had the privilege sharing the stages with a lot of them over the years and a few others, I just reached out to the rock-n-roll community. I did not reach out to any managers, agents or record labels. Just a lot of good guys that gave their time and recipes and a lot of them are great cooks!
How does Nova Rex fit in with the book?
We are featured in it and we are out promoting it on the road.
Since April is Autism month what would you like to see happen ?
Well, the CDC says 1 in 54 people in America have some form of autism. Dealing with my own experiences, there needs to be more awareness and how to work with people with autism.
Will there be a sequel?
I collected more recipes than were able to go into the book and since it was published, I have received even more recipes.  Plus, the book does say Volume 1.
Aside from your book what projects are you working on with your band?  Or otherwise?
With the band, we are celebrating our 36th anniversary.  We just released a new single and are working on more songs. We just did a national hamburger commercial for Mooyah Burgers and just picked up a tour sponsorship with The Fran Haasch Law Group.
What does your son think of your book?
He's a teenager so of course he thinks I'm a dork.  He is aware of the book and he loves to eat so I think he thinks it's cool but then again, I'm just Dad.
The official website for Rockin' Recipes For Autism may be found at https://www.rockinrecipesforautism.com