Live Review: Leon & The Peoples @Ginny's Supper Club, Harlem New York, October 4, 2019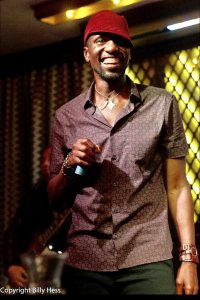 Ginny's Supper Club. a hopping speakeasy located in the middle of Harlem, with a 1930's vibe like one would imagine "The Cotten Club" to be, was the perfect setting for "Leon and the Peoples" to feature their reggae, soulful and R&B music.
Featured is frontman Leon Robinson, (mostly known as Leon), the swaggering, smooth and passionate vocalist, accompanied by The Peoples, who are some of the best musicians from all parts of the globe. Together they have established a signature sound, building loyal fans internationally. The award winning band has enjoyed several Billboard charted hits including, "Love is a Beautiful Thing", which came in at #3 and "Beautiful" hit # 12 on The Hot Single Chart. They have performed on BET's highest rated show and has headlined the 2015 & 2016 AIDS WALK NY concerts in Central Park.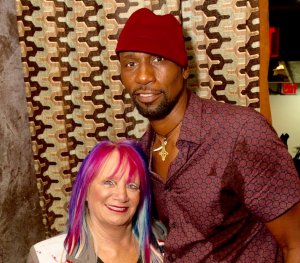 Aside from The Peoples, Leon is a very accomplished and popular actor starring in the movie's, "The Temptations", as David Ruffin, "The Five Heartbeats" as J.T. Matthews, "Cool Runnings" as Derice Bannock, "Above the Rim" as Shep and "Little Richard" in the same titled NBC movie, just to name a small few. He also portrayed Saint Martin De Porres in Madonna's controversial music video, "Like A Prayer."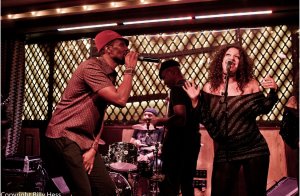 I walked downstairs from "The Red Rooster" to Ginny's Supper Club, one of New City's hidden treasures to the very polite and accommodating hostess Monique. The venue was completely sold out, standing room by the bar only as Leon and The People captured the stage and the hearts of the audience. The tall, handsome and salacious singer smoothly and vibrantly celebrated his popular hits off his five star album, "Love is a Beautiful Thing", as well as his prior reggae hits. Every song was up-beat. Like a display of fireworks Leon plunged into the sky and shattered the darkness. We need more artists like him.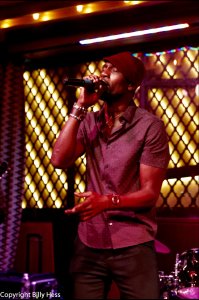 His band was astonishingly tight, and his support singers were inspiring. The crowd was awed by their performance as they dined at tables adorned with mouth watering delicacies. Leon also sang his own sexy version of Happy Birthday to a celebrating fan. Several times he joined the congregation carrying his microphone and coaxing audience members to sing along.
For me the highlight of his performance was "Sometimes I Wish I Was Single", which he described in an interview as "It was a concept song of mine. I think most people even if they are happily married sometimes they wish they were single. Maybe it's just for 10 minutes out of the day or whether it's a week, to not have the responsibility, just to be, to do whatever you want to do." During the song he actually broke it down, and explained his concept. The song quickly became half the crowd's anthem.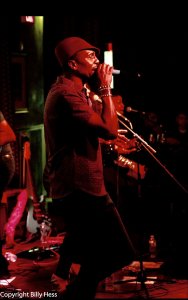 I've been listening to Leon and The Peoples for more than a minute, but have never experienced the band live. I'm a true fan of his recorded music however, Leon and The Peoples happens to be one of those factions that actually sounds even better live. Upon leaving the venue after Leon's climatic encore grand finale I noticed that the audience was brimming with celebrities. I said a quick hello to DJ Red Alert, one of the founding fathers of hip-hop-music and culture.
"Music touches us emotionally, where words alone can't"… Johnny Depp
Photo Credits: Billy Hess https://www.billyhess.com