Paisley Fields: "OutLoud" by Eileen Shapiro
Queer Country sensations Paisley Fields with frontman James Wilson will be presenting and performing "OutLoud" a Queer Music Festival on Saturday June 2nd from 6pm to 12 midnight at Drom (85th and Ave A) in New York City. James is co-producing the event with Emily from Hot Rabbit", and the artists and  bands include: Mal Blum, Russell Elliott' Lavender Country, Karen & The Sorrows, Wang Newton, Julia Weldon, Aviva Jayne and Paisley Fields….
I spoke with James Wilson who has recently released his new album "Glitter and Sawdust," and is currently touring the nation, including a Detroit Pride appearance, about the event…..
What does it mean to you to be a part of "OutLoud", and why?
I'm planning OutLoud with my friend Emily from Hot Rabbit. She and I have been wanting to put on a festival like this for a while. It was important for us that the event is focused on the music while being inclusive for all members of the LGBTQ+ community. We were just saying the other day how this festival is really starting to feel like a once in a lifetime experience. I'm fans of all the bands; Lavender Country, Mal Blum, Karen & The Sorrows, Julia Weldon, Aviva Jay & Russell Elliot are all fabulous. Paisley Fields will be playing too of course. It's a fun way to kick off pride month and come together to celebrate our individuality through music.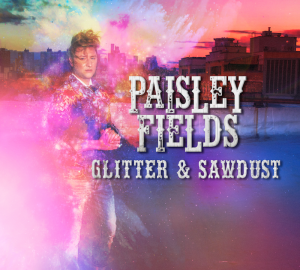 When is it, and how do people get to go to it?
The OutLoud Queer Music Festival is Saturday June 2nd at Drom. Early bird tickets are available now for $20 at outloudqmf.com. We have some VIP packages available, and if you're interested in those email us at outloudqmf@gmail.com. Doors open at 6 and the bands will play until midnight. We are having a DJ after party until 4am, and your ticket to the festival guarantees entrance to the after party.
It's the very first of its kind…what do you think is expected to go on there and how do you think it will affect future gay festivals?
Our focus for OutLoud is purely on the music. There are so many incredible musicians in our community. We wanted to come together and celebrate that with some unforgettable live performances. I'm not aware of many events like this and I hope future festivals will put more of an emphasis on the music. Art, songwriting and performance are all an important part of pride and self- expression. One thing that excites me about OutLoud is that we have a wide variety of genres represented, so there's something for everyone.
Aside from the festival, give us an update as to what will be happening for you, or what has already happened since the release of "Glitter and Sawdust"?
In April Noisey premiered the album and we've been touring pretty much since then. The release show at C'Mon Everybody was phenomenal, and our tour of Canada was a blast. We are about to head to California and in June and July we will be bouncing all over the country. If you wanna keep up with where we are you can subscribe to our mailing list or check our website for a full list of dates: paisleyfields.com.
What event are you involved in that you are most looking forward to?
We have so many exciting things coming up that it's hard to choose. I love playing to a hometown crowd though, so if I had to pick I would say OutLoud is it.
 Tell us about your newest single?
We are putting out a video for "Girl Crush" in June. We will be shooting the video in Joshua Tree when we're out there on tour. I don't want to give too much away, but we'll be giving you a look behind the scenes as we shoot so follow us on all the socials.
What is something that you can tell your fans and followers that they don't already know about you?
I love gardening! It's so nerdy and I love it. I only have a balcony garden going, but I have about 20 different plants, fruits, veggies, herbs, flowers, etc. I have a group chat going with some fellow gardening nerd friends so we can talk about how well our kale is doing.
This promises to be a wild summer for Paisley Fields ….is there a new project you have in mind?
I've already started writing new material. The response from Glitter & Sawdust has me feeling inspired. People are telling me they really connect with the music, and that was one of the things I was hoping for when we made this record. I didn't know if anybody would care, I just wrote about what I was feeling and told a story that I was compelled to tell.
Instagram @outloudqmf @thepaisleyfields @paisleyjameswilson
Twitter @outloudqmf @thepaisleyfield
Facebook /outloudqmf /thepaisleyfields
paisleyfields.com – outloudqmf.com