People of Interest – Edwina Frances Martin, Esq.: "Staten Island's Public Administrator, A Positive Presence"
Edwina Frances Martin, Esq. is Staten Island, New York's Public Administrator, appointed in January 2019, making her the first woman, first person of color and the second attorney ever to hold this office in Richmond County. Ms. Martin's responsibilities include the administration of the estates of persons that have left no will, and where there are no qualified persons to administer the decedents estate. This also includes arranging the burial when no close relatives can be found and searching for persons who might be entitled to inherit from the estate. Because of her job experiences, Ms. Martin points out the urgent importance of advanced planning and making a will.
Prior to her appointment Ms. Martin served as Deputy Chief of Staff for NYC Councilwoman Debi Rose, and Director of Government Relations, Communications and Pro Bono for Legal Services NYC. She studied law at NYU Law School to be a public interest attorney with a sincere desire to help the people.
Edwina Martin is a woman of substance and has room in her life for everything that matters. She gives a voice to things unsaid and carries her purpose where needed.
What exactly is your job title and responsibilities?
The New York State court system is broken down into many components. One component of the court system is the surrogate court which is where you go to handle estates when someone passes away. If someone has a will it's actually fairly simple but if someone passes without a will, then there are a number of steps no matter what state you live in that you have to go through to get permission to oversee an estate. So when someone doesn't have family, doesn't have a will or any type of an advanced planning document saying how they want their house disposed of, or how they would like to take care of things, in New York State and other states they have something equivalent to what I do. In New York State under the "Surrogate Court Procedure Act" the office of the Public Administrator was created to fill that void. In New York each county has a Public Administrator. In New York City they are city Commissioners although they are not appointed by the mayor, they are appointed by the surrogate court judges. It's a very quirky position because you are a non-mayoral appointed City Commissioner. The mission of our agency is to fill that void. When there is no family, no will, no advance planning document, and no one steps forward, the public administrator is appointed to administer the estate. Our job is to prevent waste to the estate and to look for heirs if there are any. We do our own research and while that process is going on, we maintain the estate in the best way possible. At any given time, we have a number of properties that are under our control. We pay the bills on those properties, make sure the oil tank is filled, we winterize the property perhaps, we look for heirs and we look for bank accounts and any other things that are part of the estate. In Richmond County, which is known to most people as Staten Island, we actually do something that isn't done in any of the other counties in New York City or New York State. That is we ensure in any estate that comes under our control where there are no family or friends to bury the decedent we make sure that they are buried on Staten Island with dignity and respect so that they are not deposited on Hart Island, New York City's mass grave yard.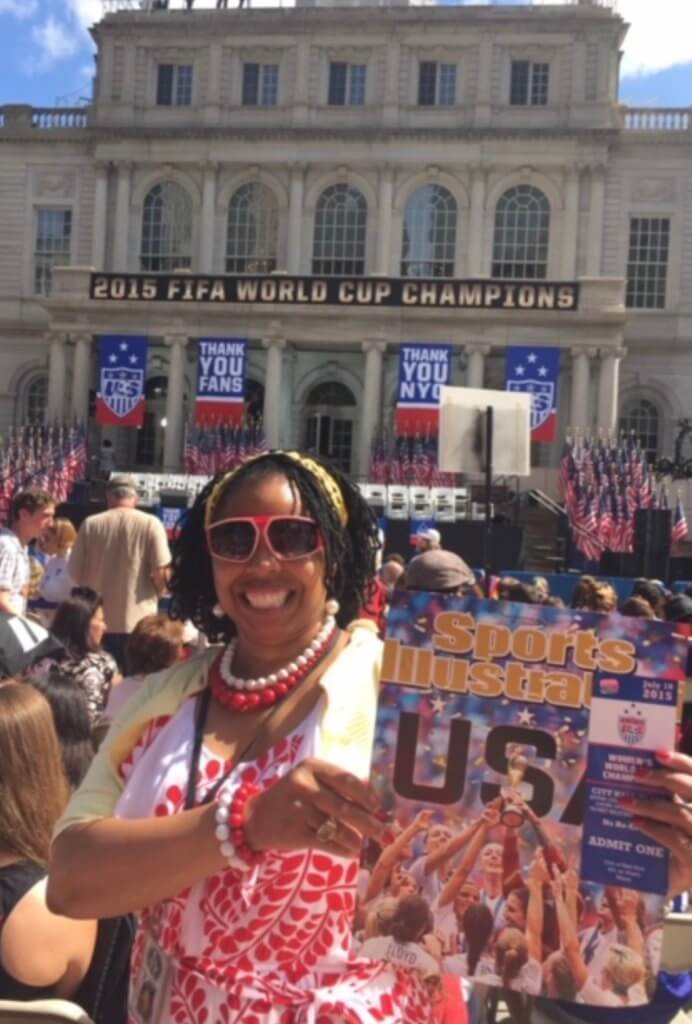 I was appointed by Surrogate Judge Matthew J. Titone. He asked me to, among other things, review the systems in the Public Administrator's office to increase efficiencies. So, I have spent some time in upgrading systems (such as replacing a 1990's phone system) and processes, while working to maintain the office's high standards.
Do you have a goal for your career, as I know you ran to become a judge?
I became Public Administrator on January 1, 2019 and I'm actually going into my third year. I ran for a municipal opening for civil court judge on Staten Island because it came up very unexpectedly. So, I didn't start this job with the thought that I was going to run for a judgeship. The judge that had been in the North Shore Civil Court seat on Staten Island was nominated for supreme court and the opening unexpectedly came up, so I decided, without a lot of planning, to go for it. Civil Court is the "People's Court," where you have the most unrepresented people and where the need to ensure equal access to our justice system is greatest. Since graduating from law school one of my dreams has been to be a judge, and I believe that you should seize the day when an opportunity is presented to you. But I love the job that I'm doing right now, and I don't have any plans to do something else. I am helping people where I am right now. For example, in December we did something else that's very unique to Staten Island. We worked with Richmond University Medical Center, which is one of our two privately held hospitals, to acquire permission to bury stillborns that would otherwise go to Hart Island or maybe into city waste. These are families that usually are going through incredible grief and often don't have the money to bury them because it's an expensive process as we all know. It's a way to give tribute to these young souls and acknowledge that they are important. The people that didn't have means who passed away still have meaning and dignity and should be treated as such. So, we had a ceremony burying nine in December.
This is the first time I've ever heard of Hart Island.
If you were in New York City at the height of the pandemic in the Spring you would've heard about Hart Island a lot because the city suggested that it might start sending bodies to Hart Island for burial due to the fact that the morgues and the cemeteries were being overwhelmed. There was a huge outcry because it is very difficult when someone is buried in Hart Island to distinguish them and move them someplace else. If you have ever seen the series "Pose," which is one of my favorite series, the opening of the second season was about two of the main characters going to see their friend who had passed away from AIDS and was buried on Hart Island. Hart Island is maintained by the Parks Dept. but run by the Dept. of Corrections. So to go there you have to make an appointment with the Dept. of Corrections, get on the ferry, and you can only go twice a month. When you go you're going with the Dept. of Corrections so it's like going to prison. Then they send you to the area where the people are buried so you know the area, but you never know the exact location because they are buried in bunches.
What were some of your influences and inspirations for choosing your career path?
I grew up in what we call the `DMV,' the Washington D.C., Maryland, Virginia area. I went to catholic high school in DC. I went off to one of the "little ivies," Williams College, and then went to law school at NYU Law School. In fact, law school is what brought me to New York. I went to NYU specifically because I was interested in public interest law and NYU's motto is "A private institution in the public interest." I absolutely loved it, it was an incredible experience. I joined a ton of organizations and was president of lots of clubs. Law school is a funny place. You are placed in sections and the same people are in all of the same classes the first year. Most people do not know anyone outside their section…except for me. I knew people in every section. My nickname amongst some people was "The Cheerleader" because I am very cheerful and I try to be positive (and I had actually been a cheerleader!). I'm not sure it was a compliment, but I made it a positive, always working to cheer people on to do their best. From there I spent a few years in private practice, but it was never truly satisfying for me. I was a litigator and still am in many ways. I realized that I just felt very hollow because I wasn't following what my passion had been which was public interest and helping people. It's very different when you're working priority is money as opposed to the public good. With the help and recommendation of a very good friend I was hired as Legal Services NYC's first director of communications, which came to include government relations, and then pro bono services. It was a wonderful experience – amongst other things, I coordinated the process to create "Staten Island Legal Services," which now provides free legal services to thousands of low-income Staten Islanders each year. I came to understand, however, that what I enjoyed most there was the government relations part of the job where I helped to raise millions of dollars for the organization, which provides free civil legal services to low-income New Yorkers. I have always cared passionately about social justice issues. When I had my swearing in ceremony as Public Administrator I talked about my family. My mother is the daughter of a West Virginia coalminer and my father comes from Pittsburgh where his family worked in the steel works. My parents and their families were a part of the black migration from the south to the north. They settled in the DMV area and were part of many of the important marches of the 1960's. They instilled in my siblings and me a deep sense of gratitude of what has been gained and an understanding of the history behind civil rights and the importance of paying it forward.
Your Domestic Partner is one of the most well-respected television hosts on the planet, Mickey Burns. But while you seem inclined to have fun and be all bubbly, Mickey strikes me as being very serious.
Mickey likes to have fun too, but I describe him as a homebody. I think that he is happiest when he's at home puttering around. He sometimes gets frustrated because of the world that I'm in, the political world, because I go to a lot of events. He sometimes says to me, "that's enough Julie the cruise director."
If you could have me ask you any question on the planet what would it be and how would you answer?
Why do I care and why do I want to help people as opposed to making a million dollars a year as a partner in a law firm? I would say many people go to law school because they want to make money. One of the things that I observed is that those tend to be some of the more frustrated and unhappy lawyers. I observed that the lawyers that seemed genuinely happy in what they were doing and enjoyed getting up in the morning were the people who went into public service. To me it's important to have a reason to get up and go into work and I found that money being the bottom line was not the kind of motivator that I needed to make me happy. We all want to be comfortable of course, but if I wasn't helping to make the world a better place I wasn't satisfied. I do think that's the upbringing from my parents and understanding the importance of paying it forward and making sure that we leave the world in a better place than we found it.
I usually ask my entertainment people if they have had their ultimate stage fantasy yet, so I'll just rephrase that you have you had your ultimate career reward yet?
When I graduated from law school I was our elected class speaker. I addressed all of my classmates, professors, and family and friends gathered for graduation. That was an incredible experience. When I got the call to be appointed to this position, that was unreal because I never thought it would happen. Being sworn in as Public Administrator and having all of the people who came and thought it was important, that was also incredible. Being selected as an honoree by the Staten Island chapter of the NAACP, and other recognition I have received since being appointed, I never would've imagined that happening. So I'd say I've been lucky to be able to experience a number of incredible experiences.
Any closing words?
One of the things I've wanted to do was increase public information of what the public administrators office does and also how important it is to give some thought to advanced planning, and the difference it could make for your family and loved ones after you leave.