"World Star PR" An innovative and Unprecedented Key PR Solution
Since 2011, World Star PR has done placements for artists/actors/filmmakers/authors including Emma Stone, Rachel Weisz, Boy George, Jennifer Hudson, Jane Lynch, Cyndi Lauper, Kylie Minogue, Diana Ross, Annie Lenox, Ileana Douglas, Matthew Modine, Rick Springfield, Toni Braxton, Lisa Stansfield, Doctor Dre and more. World Star PR is very well known and respected in the industry and has an active social media following with 500,000 followers that interact regularly.
World Star PR is a multi-faceted public relations firm offering the dedicated artist, musician, filmmaker, actor, author, businessperson, brand or celebrity the chance to "rise" through promotion and highly acclaimed media exposure. With an avalanche of explosive press in massive publications globally World Star PR propels their talented clients successfully to the next level.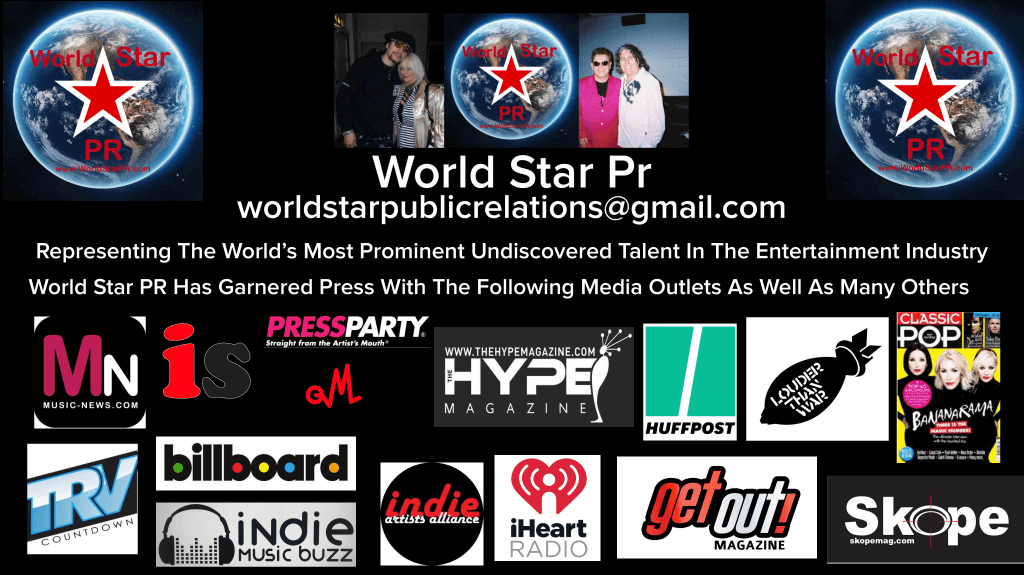 Aside from a myriad of prolific journalists, reviewers and critics who they have formed lasting relationships with, the owners and founders of WSPR both write for over 40 world renown publications themselves, enabling a vest array of diverse, international press to cultivate and broaden the horizons of their clients.

One of the most unusual advantages World Star provides is a guest spot on The Jimmy Star Show with Ron Russell, the biggest internet TV/Radio show on the planet with 4.5 million weekly viewers, and hosted by owner of WSPR, Jimmy Star himself. Both Jimmy and Eileen Shapiro form lasting relationships with their clients through constant communication. They boost their artist's social media platforms, while catapulting them into the World of exposure. Their avant-garde methods are creative and impressive, but most importantly triumphant.

Jimmy Star has hosted The Jimmy Star Show with Ron Russell for over 9 years welcoming high profile guests including: Fran Drescher, Martha Davis, James Faulkner, Patrick Warburton, Illeana Douglas, Stephen Lang, Malcolm McDowell, Matthew Modine, John Carroll Lynch, John Barrowman, Mary Wilson and Caroline Williams, just to name a few. He celebrates a career in fashion design, as well as being a best-selling published author, Red Carpet host and social media guru.

Eileen Shapiro is an acclaimed best-selling author who has interviewed artists including Diana Ross, Boy George, Emma Stone, Rachel Weisz, Dionne Warwick, Annie Lennox, Adam Ant, Cyndi Lauper, Kesha, Toni Braxton, Jennifer Hudson, Sugarland, and many other A-list celebrities, A repertoire to vast to mention. She is also the A&R representative for the legendary label TRAX Records.

Both Jimmy and Eileen superbly specialize in different facets of media leaving them to pursue nearly every type of artist and client. It's been a complete honor having met and spoken to them, learning from their diverse experience and watching their clients grow in their desired fields, meeting the needs of their destiny. Their packages begin at a mere $650 a month and they operate on a month to month basis without binding their clients to a multi-month contract. Many of their clients have been with them since the company's inception.
World Star PR was named Publicist of the Year in the 2018 Nashville Universe Music awards and the KDub Country Music awards beating out many of the major publicists in the United States.
World Star PR Company Specialties:
-Music Promotion/Interviews
–Actor/Actress Promotions
-Social Media Management
-Digital Marketing and Publicity
-Business Marketing and Public Relations
-Consulting/Image Building/Branding
-Feature Film (Theatrical and Home Entertainment) Publicity and Promotion
-Web Series Publicity and Promotion
-Social Media Training
-Author/Book Promotion
-Event Management, Marketing and Promotion
-Media Relations

Testimonials

Caroline Williams (actress and client): " You've done more for me in one week than my last PR company did in a whole year."

John Robb (journalist, TV personality, owner of Louder Than War) "Proud to publish this great interview by Eileen Shapiro on my site"

Rich Graff (actor) Fantastic article Eileen. Looking forward to doing many more with you! You are an incredibly talented writer"

Barry Mead (Adam Ant's Manager) "on behalf of Adam, the band and all our team, I want to thank you for your kind words and your review of our show at the Danforth music Hall in Toronto. You're touching words mean a great deal not only to Adam and his band, but also to the fans who have been reading and sharing your words"
Contact World Star PR to become a client or to receive more information worldstarpublicrelations@gmail.com