Rocky Kramer to Appear at 9/11 Celebrity Benefit Concert Presented by SohoJohnny In NYC
Norwegian / American Glam Rock singer/ songwriter, master guitarist Rocky Kramer will appear at the SohoJohnny Presents "9/11 Let Me Help Music & Fashion Celebrity Benefit Gala Concert" on Saturday September 11, 2021. It is set to take place at Rumi Event Space located at 229 W. 28th Street (between 7th and 8th), in Manhattan. The Red Carpet begins at 5:00 PM EST and the main event starts at 7:00 PM sharp.
The event pays tribute to the 20-year anniversary of 9/11 with a barrage of fashion and music celebrating New York Fashion Week and a prelude to the opening of Broadway. The Let Me Help, Inc foundation founded by John "SohoJohnny" Pasquale strives to help people whose lives and livelihoods have been affected in some way by unforeseen circumstances or illness by raising money through the celebration of music, laughter and dance, and will be benefiting "Operation Warrior Shield", an organization helping wounded veterans through the use of service dogs.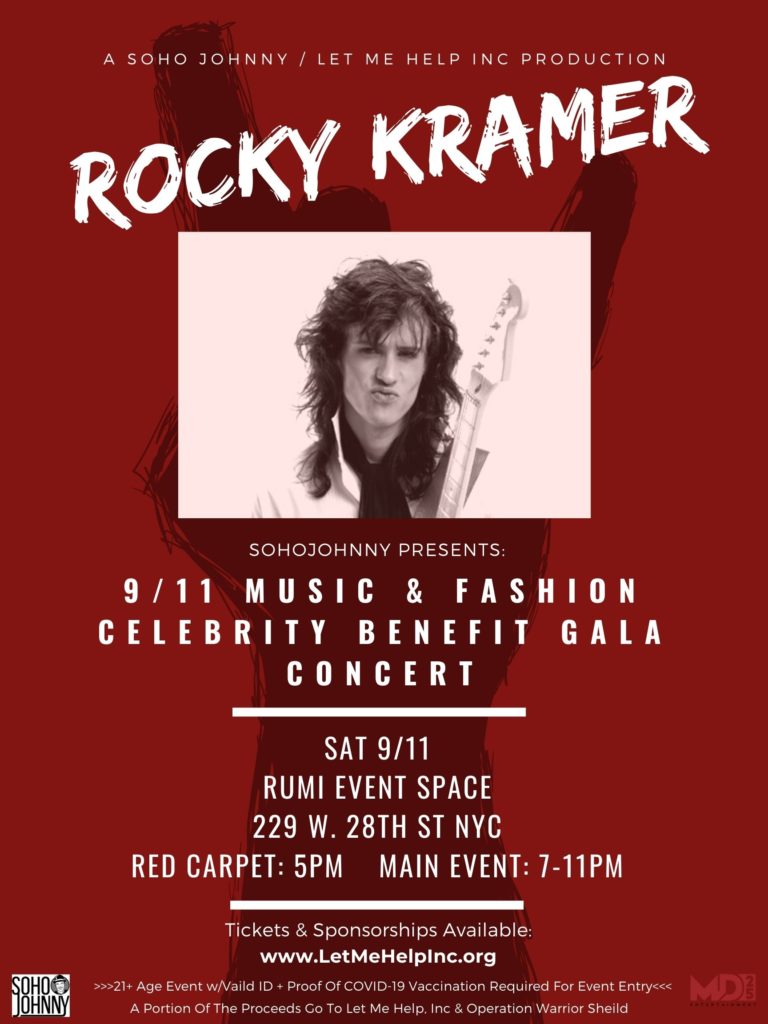 Glam Rock Viking Rocky Kramer, signed Allied Artist Music Group superstar hails from Norway but is now based in LA. A child of the 80's but born in the 90's, Kramer is a multi-instrumentalist who is endorsed by Fender guitars and is described as One of the strongest and most poignant guitarists since Jimi Hendrix. He has most recently been cast to play the character lars Olsen in the Aaron Lee Lopez directed feature film "Rockin' In Time."
The 9/11 Celebrity Benefit Gala Concert produced by MD25 Entertainment and SohoJohnny also features either performing or attending Kim Sledge, Phillip Bloch, Mickey Burns, Randy Edelman, Billy Hess, Felipe Rose, April Rose Gabrielli, ARO Rose, Joey Belladonna, Shitty Princess, Jerome Bell, Fred Schneider, Howard Bloom, Grand Master Jhong Kim, Alle Guercio, Kreesha Turner, Queeny King, Kulick, Jimmy Star, Ron Russell, DRMAGON, Katie Welch, No Mansfield, Manny Cabo, Wendy Stuart Kaplan, and many others.
Get tickets on Eventbrite here:
https://www.eventbrite.com/e/the-let-me-help-grand-celebrity-benefit-music-fashion-gala-ft-drmagdn-tickets-166678579117
The official website for Rocky Kramer may be found at https://www.rockykramer.com