Album Review: Captain of the Lost Waves "Hidden Gems: Chapter 2" by Jordan Cain
If your searching for a new persuasion of music, something vibrant and unique, then it's time to discover "Captain of the Lost Waves." His songs are full of imagination, from his lyrics to his fashion design. Traveling extensively throughout the cities and country villages of England, wearing a top hat, long coat, and seasoned mustache, he brings with him strange and quirky instruments and a flair for the mystic. Although his songs are a fusion of modern vaudeville, folk, light dream pop and cabaret, he has been admired by the Steampunk Community. A throw-back from another time and place, his music is refreshing and sometimes magical.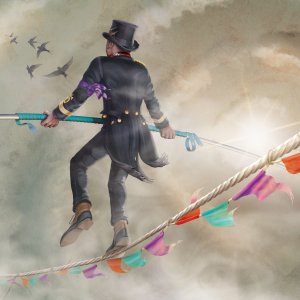 After great success with his first album, "Hidden Gems Chapter 1", he is about to release his highly anticipated follow-up, 'Hidden Gems Chapter 2', the second of a Trilogy. In between the two albums he released "Synthesis", an EP serving as a prelude to the new album and a reminder of the first one. He has also released some inspiring videos a long the way showcasing his talent and wizardry.
The song "January", simple subject as it may seem shows us poetry exampling, "May I introduce myself, I'm the month that they say they most fear. They call me January, I'm the Monday it seems of the year." Watching him sing the song, you actually believe he is most definitely January. The song "Uniforms" is a socially conscious songs with a huge message, if you really listen. "Another Planet" is a sultry nu-vaudevillian type song with interesting tones, and an out of this world sonic flair. "Mr. Many Men" is a feel good autobiography in some way, with a very original video accompanying it. "Danger" inundated with instruments I can't even pronounce. It absolutely keeps you breathing.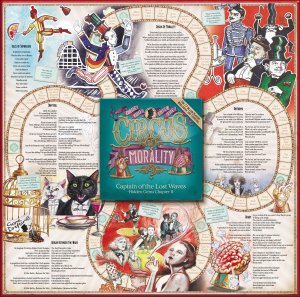 He has gained many fans and grown many alliances through his travels. He has confidence and humility and presents that within his songs.
The Captain of the Lost Waves is himself a Hidden Gem. There is no other like him, no one that even comes close. He is a breath of fresh air, a dazzling display of talent bordering upon clarity and insanity, but truly entertaining nevertheless. The Captain is a relentless visionary, a prophetic character, a fairy-tale, a musical anomaly, a phenomenon, and an explorer in the world of music.
4/5 Stars
Sample and purchase "Synthesis" here: https://captainofthelostwaves.hearnow.com
Link to buy the Limited Edition "Synthesis" Vinyl LP http://captainofthelostwaves.com/products-page/products/synthesis-vinyl/
Watch the music video for "Uniforms" by Captain Of The Lost Waves here:
and the music video for "January" here:
Follow Captain Of The Lost Waves on the web:
Youtube: https://www.youtube.com/captainofthelostwaves
Facebook: https://www.facebook.com/captainofthelostwaves
Twitter: https://www.twitter.com/CaptainOTLW
Instagram: https://www.instagram.com/captainofthelostwaves
Website: http://www.captainofthelostwaves.com