SVTV Network: "STUD MODEL PROJECT: The Series" Defined by Creator Teresa Morcho and Producer Sheri Johnson: Premieres: May 16, 2019 @ 9:00 PM EST
SVTV (Strong Voices Television) Network celebrates the launch of "Stud Model Project: The Series", on Thursday, May 16th. This ground breaking, consequential, LANDMARK reality competition will be seeking America's sexiest LGBTQ Stud Model. The series strives to smash the confines of labels placed upon the dominants within the LGBTQ community, and disrupt the gender norms that the planet defines. The right voice speaking at the right moment can start an avalanche, as did creator Teresa StudModelProject Morcho, and producer Sheri Johnson who had the vision to realize the eclectic diversity.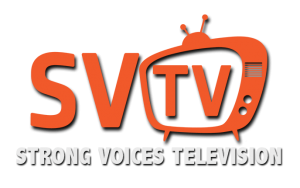 The "feel good" series will feature the most salacious stud models fashioned in some of the hottest designs while sharing stories and reflecting on their identifies. The diverse cast members include, the first non-binary (identifying as either masculine or feminine) contestant as well as a deaf candidate.
I went behind the scenes and spoke to Teresa and Sheri regarding the groundbreaking series, it's inspiration and it's concept….
This series was born by someone really thinking out of the box. As the creator of the project what inspired the very idea of "Stud Model Project: The Series?"
Teresa: I was an event promoter for lesbian women in my area in North Carolina. I am also a graphic designer, so I did most of my own promotion. What I found was there was a lack of stock photos, and professional photos, and just photos that I could use on my flyers to promote these events for the women that were coming. So I tried to Google androgynous women. I googled studs and I found these black-and-white, blended, more than likely Caucasian models that had a leather jacket, a cigarette and whatever. It was very generic, and I knew these were not the women that were coming to my events. I was searching for a way to find those kind of women. I didn't know anything about photography, but I thought someone has to do it, so I went and got a camera. I started going to my own events and taking pictures. I used these pictures for flyers, and then suddenly realized that everyone noticed me, every time I had my camera. These women started to come to my events just to pose. So they were posing for my camera and I went home every night after the club and was looking at these pictures thinking, "DAMN", maybe I need to do something outside of the club events. Our club was really big on dancers, so I had some entertainers that I invited over and I started taking pictures of them. I would just post them online, as many pictures as I could flood them with. Then other promoters started to contact me to ask me if they can use my pictures, and I said "sure go ahead." At that point I was doing it for the community, nonprofit, but then suddenly it took a life of its own.
I started getting messages from women all over the world. The woman expressed that their mom put them in dresses and they hated it, or that they used to model when they were five years old, and most importantly they never thought there was a place for them in the industry. I receive messages upon messages from girls who always wanted to model but never thought there was a place for them. It became a movement in a sense all over the world. Some would send pictures sometimes in their traditional garments but they still looked kind of masculine. I wanted to capture this in a sense where women and non-binary and the LGBT community period could have a time capsule. There weren't really any books that I could find to connect me with these kind of women in history. I wanted to the capture something that would last longer than just a digital image. So that's how this book came about. The book became a physical thing, whether people purchased it or not, it was here for "Prosperity." This way in 3 or 4 or 20 years later some lesbian or LGBT person, even though the world will have changed drastically, at least they could look back and see these images. They could see that there were women back then just loving their truth. The project just took a life of its own.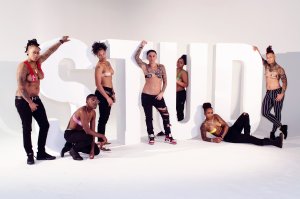 When you produce a program like this what exactly are you looking for, what would you like the public to get out of this?
Teresa: I wanted to show a feel good image of these women. If you think about studs movies like "Pimp" with Keke Palmer come to mind. It's always these images of womanizers. I thought there are women out there who are professionals and well-groomed and stylish. I wondered why that other image was the only image we were getting. So when I decided to do this project I wanted it to be a feel good project. I wanted to show that within our community as well, that there could be a better camaraderie between lesbians of color, so I didn't want it to be a drama filled thing. I didn't want it to be a typical thing of lesbian drama. I wanted it to be a family affair, something that two women could sit down with their children and watch and could be proud of. That was my goal for the show. I wanted to make sure that I was smiling and laughing and feeling good. I wanted to make sure people saw a different image than what we were forced to think of.
One of the comments that we experienced on Facebook was some ignorant person posted. "Studs can't be women", what your point of view on that?
To me, my definition of a stud is anybody that is masculine of center. It could be a male or female however, I believe that back in the day when you heard the word Butch you had an image of a white lesbian that was dominant. Most of the studs in the African-American community recently we started to get an image of these women that were masculine, but they loved being a woman. They weren't ashamed of their curves or being pretty. It was a shift happening and they decided to call themselves studs. I don't know where that terminology came from, but it started to describe that urban, that softer side of that masculine terminology Butch. That's kind of how the stud term came about. When people say studs are only for guys I kind of just laugh.
What is the premise of the theme of the show?
Teresa: We invited seven stud models, some of them are new to the game, and some of them have been modeling for a little bit, and some just like to take pictures. We invited these models to live in a mansion in Georgia. We also invited brands that are willing to showcase their clothes or whatever it is they have going on, including a make-up artist, a wig designer, etc. We invited these brands to say "hey are you guys interested in having this kind of image for your brand?" They were excited about it. We invited these brands aboard and every step of the way the models are modeling. From the time they walk into the mansion they are modeling. We have different competitions that we do, and not to give it away, but some of these competitions will ignite certain things to have them think beyond what they think they know. We talk about parenthood, we talk about virtuality, and we are talking about all the things that people have questions about. For example, it's such a hard thing to see a stud that is pregnant. When you think about things like parenthood or virtuality or every day to day life and professionalism in corporate America… When do you think about the hardships and the different complexities that these women are going through….so that's how we use the brands and the models in these competitions. At the end of the show someone wins the cover of our volume three book.
When will the show air, for how long, and how can people watch it?
Teresa: The show is going to be eight episodes. It airs this Thursday, May 16, at 9 PM EST. every two weeks a new episode is going to air until we reach our 8 episodes. So that will last about 3 to 4 months. I'm very excited to hear the response from everyone, and how they feel about it. I love it. Every time I watch it I'm laughing.
It's a very cool and unique conception.
Teresa: Thank you. I wouldn't have been able to do it without the team who have been monumental in making this a reality. Everybody that came on board, all the brand teams, the studio, post production, I can't explain how much of a family we became by the end of the fourth day. So I'm really excited.
Is there anything else that you might want to add Sheri as producer of this ground breaking series?
Sheri: Strong Voices Television, that's our tag line and we try and focus on LGBTQ content that reflects our vision on the network of having strong voices and making a difference in our community. Teresa and I met while following each other on social media. I really liked what she was doing. We finally met in person about two years ago at an event in Miami. We walked up to each other and admitted that we were fans of each other. Then recently everything just magically fell into place. She called and said she wanted to do the show, and I agreed. In my head looking back, a month later we had a show. She had the characters she wanted, the mansion in Atlanta, and I am so proud of her. It's an honor for the SVTV network to be a part of bringing her vision to reality because it also compliments our vision for strong voices in our community. This is a show that's going to break barriers, and gender barriers on top of that. I'm glad to have her aboard, and I can't wait to show it to the world.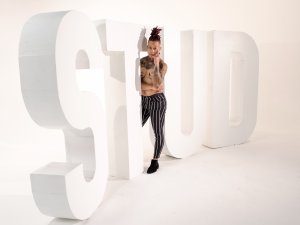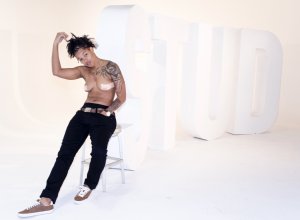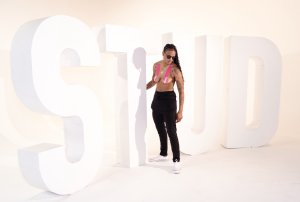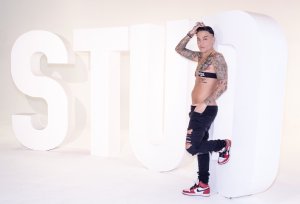 Season One of Stud Model Project: The Series debuts May 16th at 9 p.m. (ET) on the SVTV Network, both on the web and on your television through Roku, Apple TV, Google Chromecast and Amazon Fire TV . Subscribe to The SVTV Network by visiting www.svtvnetwork.com and have access to a ground breaking television network featuring LGBTQ series, movies, documentaries, music, podcasts, news and more for only $5.99 a month.
Watch the promotional trailer for "Stud Model Project: The Series" here:
For interviews with Sheri Johnson (CEO SVTV Network) or Teresa Morcho contact worldstarpublicrelations@gmail.com
Follow SVTV Network on the Web
Official Website https://www.svtvnetwork.com
Twitter https://www.twitter.com/SVTVNetwork @SVTVNetwork
Instagram https://www.instagram.com/SVTVNetwork @SVTVNetwork
Facebook https://www.facebook.com/SVTVNetwork/