"Slim Jim Phantom of the Stray Cats and Jennie Vee of Eagles of Death Metal: Hollywood's Rockstar Couple Rocks out with Music, Fashion and Fun"
Ready to rock n roll, the father's of rockabilly sensibility, the second time around, the Stray Cats are set to go on a massive European/American tour this summer after the release of their two brand new singles, "Cat Fight (Over A Dog Like Me)", and "Rock It Off". The unveiling of their new album entitled "40", in honor of their 40th anniversary, (their first new album in 26 years), is set to take off on May 20th 2019.
The Stray Cats are an iconic rockabilly group formed in 1979 by three good friends from Massapequa, Long Island, vocalist and guitarist, Brian Setzer, double bassist, Lee Rocker, and drummer, Slim Jim Phantom. They went on to make supreme musical history. After the faction reunited in an inspirational Vegas concert, Setzer began to write new songs, and the chronicle continues.
For Slim Jim Phantom, aside from a new record, a new tour, a SiriusXM radio show, and a rock n roll autobiography, "A Stray Cat Struts", he also has Jennie Vee, the beautiful and talented bassist from "Eagles of Death Metal." Jennie a songwriter/singer/musician who has worked with Courtney Love, supported Echo and The Bunnymen, and currently gigs with Phantom. The two rockers eventually plan to have a rock n roll wedding…I spoke with the two of them about their plans to rock on forever….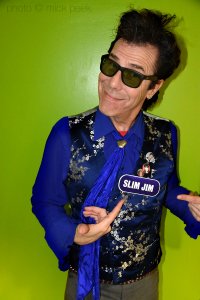 So you and Jennie are gigging together?
Yeah, when I do my trio. Eagles of Death Metal will be in New York the first week in June, so I'll just go with them. Their tour is one day over that when the Stray Cats start in Europe so she will just come with us….and change buses. The Stray Cats will be back playing in New York on the 6th of August, and Atlantic City is on the 3rd of August. Then we will continue on in Virginia, Ohio, Detroit, Minneapolis, then LA, and then two in San Diego, and it's going to be great! Then we will see what happens. So far everyone is getting along great, so it's good times.
The first time we spoke some years ago we talked about the possibility of the Stray Cats getting back together. Your answer was, maybe…
Exactly right.
And now the Stray Cats have new music out?
Yeah, we have two singles out and our album comes out May 20th. Our Tour is being sponsored by Sirius XM, which really works out because I do a show for them. It's funny how the whole thing worked out, independent of each other. There was a single that came out record store day and the album is out on 20 May.
I remember you said that you would be doing several gigs together…
Last year we did one in Vegas, one in Chicago and two in LA, and those shows especially the one in Vegas got everyone inspired. So now to see this rockabilly thing years later, and everyone so inspired, especially in Vegas. It was an international event and kids came from all over the world to celebrate cars, and fashion, and American music. It just kind of affected everyone. It inspired Brian and he started writing after we did the ones in LA which was last August. Everyone kept in touch pretty heavily and Brian wrote some songs and sent some demos over. It quickly turned into we made an album and all this time we've been sitting on it. We kept it kind of quiet. Now it's ready to come out. It's called 40 because were celebrating 40 years of Massapequa, Seaford, Belmore…. I wanted to list the whole train line. Believe it or not it was 40 years that we started playing in Lee's garage and in TK's in Amityville, Arrows in Belmore, Yankee Peddler in Merrick and Arthur's in Massapequa. We had a gig five nights a week. That was in 1979.
Then you went to England without a dime in your pocket?
Exactly. That was a good idea. Considering there were no rockabilly types we were packed at all those places. They all came. No rockabilly types but it was all those Seaford, Bellmore, Massapequa, Baldwin, all those gangs of rocker kids. They all came to see us. They were hard guys too especially the ones in Bellmore. They were kind of heavy kids. They were not just goofy stoners and they loved us. We were kind of the local eccentric's and they protected us. We would go to Whitecastle or 7-Eleven after the gigs and we were dressed up but we had the Belmore kids with us so we were safe.
Now your touring all of Europe, starting where?
We start in Spain. There's a big festival. Then there we will do two in London at Hammersmith. We are there two nights because the first one sold out, so they added another. Hopefully that one will go too. London is like going back to the second place, really the first place in a lot of ways because we had such big success there. After that there is a month in Europe. We're going everywhere, to Germany, France, Finland, Sweden, so it's going to be a good one.
What does the future look like for you and the Cats? What are you hoping for?
What I would hope is for it to happen every couple of years. To go out and do this. Since we've become established as the representatives of that music, to come back every couple of summers and really have a nice summer would be great. There's really something special about it, the three of us. By the time we started 40 years ago we had already known each other for 10 years. So there is a special feeling to it and it does translate now. I don't know if I realized that so much in the past but lately when we all talk, we have a little email thread where we talk to each other and tell little jokes that no one would care about except us. It's a very special thing now and I really like it. I like to be friends with those two so hopefully we can do that and do another record. We could do that and it doesn't have to be the be all anymore. Then we can have time for all of us to do the other stuff. Jennie and I are going to make a record. We started to do this documentary about rockabilly music. We're not halfway done but we have done a lot of the interviews. It's with everyone, Shirley Manson, Josh Homme, Billy Zane I just did. Hopefully I'll do Ringo and those guys and it will be just about the influence of rockabilly music. I also have a bunch of the original guys from Little Richard's band, I'm going to go to the guys who are left from The Blue Caps, Bebop A Lew, there's a few of them left. And then I want to do the current people as well, the younger breed. I'm just a link between it all, between the original guys from the 60s and 70s and then it continued after us. So I think we were kind of a little bit of the thing that kept it going. I've just been interviewing people and Jennie is producing the film. She put it all together and we have a couple of Hollywood types helping. That's really what I want to do. I will focus on it more after the Stray Cats tour. So I just wanna be able to have fun and ultimately be with the stray cats every two years to sort of remind everyone. It's always a good calling card and that reunites everyone again. It makes all the other projects kind of fun.
It all sounds fun and perfect.
Yeah, if I would've been smart back then I would've been dangerous.
The only drummer that ever played standing up.
Yeah, how long can you do that?
Aside from all the excitement with the new music and tour from the Stray Cats, what's new with you and Jennie?
We just did a gig last night. It's good now because we have a built-in rhythm section. If I lose my cell phone we have her cell phone. We like to stay sharp because her band starts rehearsals next week and the Stray Cats never rehearse. I practice the drums at home but it's good to go out and do gigs. So we go out and do gigs. It's something we do together. It's just a cool thing that keeps you sharp as musicians and we also have fun together. She plays bass great and looks great which takes some of the pressure off me up there. Everyone's looking at her instead of me.
Are you married yet?
No, as soon as we get our schedule together we're going to get married. Part of it is because we want to make sure everyone else is there. It's hard to rally the troops sometimes. This time a year everyone is doing their thing. Everyone you know is hopefully doing gigs. We want to do a nice Rock 'n' Roll wedding where we could all play and have everyone come and just have a big blowout. We are just trying to sync everyone's schedules so we can get most of the gang down there.
What else are you up to?
We started this line of jackets. If you go to my website https://www.slimjimphantom.com
it will take you right to it. We made a line of denim jackets. Levi jackets or wrangler, real classic ones that we put patches on. We have been doing that over the last year. Jennie has mine, the one I used to wear in the 80s. I would get all these patches from the different places we would go to. So I had this fantastic jacket and it was in storage and Jennie started to wear it. All her friends loved it, I guess it's a little in vogue. So we started making them. She sews, all by hand and I would find the patches. So now this is something else that we do together. We go to yard sales and all of that stuff and just collect patches. It's taken almost a year but right now we have 12 jackets available. It's called Phantom Vee. I just launch them and have already sold a few. When we get enough time this is the thing that we really want to do. Each jacket is very, very custom. We will be focusing more on that after the tours.
I want one!!
They are high end, and we've sold a few. They are completely hand vintage, and ready to go. We're mom and pop now…
Mom and Pop of the rock world, I love it.
Exactly.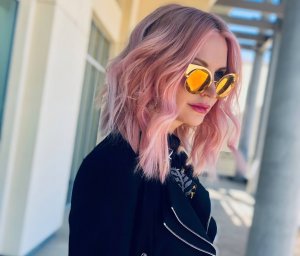 Jennie Vee:
There are lots of exciting things going on for you right now.
Oh yeah, non-stop action, Eagles of Death Metal just released an awesome covers album. You've got to hear it because it's not just the usual suspects of a rock band covering other rock bands. There's a version of George Michael's "Careless Whisper", there is "Family Affair" by Mary J. Blige, which is amazing. It's a really, really cool album. It's called, "The Best Songs We Never Wrote." It's just a really, really fun record. I'm going out on tour in June in Europe. I'm sure we will play a few of those covers in the set. It's going to be a great time and my tour bleeds right into the Stray Cats tour, so I'll be out all summer, half with my band and half with Jim's band. Do you think it could be more perfect, I don't think so?
That's fun. The two of you are also playing together.
After we met we just started playing together. It just made sense. I learned all the stuff. Jim has always had a trio and this really expanded my repertoire. I've been playing for many years, 25 years and this kind of upped my game as far as being a musician because I never really attacked rockabilly. I started out playing punk and nu-wave and post punk and then meeting Jim I kind of went back and started playing what Jim and the Stray Cats were playing. So I have really diversified my style and it's awesome. Then we do the jackets on the side which is so much fun. Then me personally I've got my own sunglasses coming out in August. There is a company in Australia and they are awesome. The shades are super fashionable and really high-quality and I did a frame with them. I helped design it, the shape and the color. They look good on everyone and they work with a bunch of cool influential people. So I'm really honored to have my own frame coming out.
When you and Jim gig together do you play only rockabilly?
Yeah, we stay true to the rockabilly classics. We do the Stray Cat ones which are a blast, Elvis and Eddie Cochran, Buddy Holly, it's very rockabilly our set. It's just really, really fun. I mean we do everything together.
So the two of you are all over the place in a good way.
I know, that's why Jim says we have to find the time to get married, which is true. We want to have a really cool wedding and make it real Rock 'n' Roll. Between us always having something to do, going out for the weekends for gigs and going on tour and designing jackets, and sunglasses and taking care of the pets, we have to really set aside some time. Hopefully in September we will have a little bit of a break after we finish the summer tour will be able to round everybody up. Will have a wedding tour. We talked about doing it in different cities.
Everybody loves romance and Rock 'n' Roll
Exactly. A Rock 'n' Roll romance. I'm super grateful. And then I start to feel bad for everybody else that doesn't have a Slim Jim phantom.
For more information on Slim Jim Phantom:
www.slimjimphantom.com
www.facebook.com/officialsjp
www.instagram.com/officialslimjimphantom
https://twitter.com/officialslimjim