Tomás Doncker and Khalil Kain To Guest On The Violators Unlimited Radio Show Saturday June 8th, 2019
Tomás Doncker and Khalil Kain will be in studio guests on the legendary Violators Unlimited Radio Show Saturday June 8th, 2019 at 3:15 pm ET.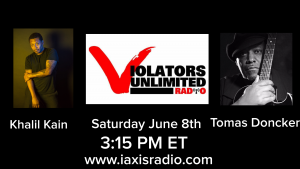 Tomás Doncker is an outstanding New York musician, songwriter, record producer, innovator, and record label CEO (True Groove Records). In 2011 CNN credited him with creating the genre, "Global Soul." He has worked with artists including, Madonna, Yoko Ono, Bootsy Collins, Bonnie Raitt, and many others. Currently he is preparing to take Broadway by fire as one of the two musicians on stage in the break out hit "To Kill A Mockingbird."
Khalil Kain is an Urban Icon and established actor with a career that has spanned two decades. His performance in the seminal film Juice has endeared him to fans and colleagues worldwide. He has also been seen in such hits as Renaissance Man, Love Jones, The Velocity of Gary, and many more as well as hit tv shows including Suddenly Susan, Friends, Living Single, Girlfriends, and Bronx SIU. He has just released his debut single Lil' Duckie from his highly anticipated album Lambs to Slaughter through True Groove Records.
Violators Unlimited is a newly formed entertainment company that is focused on a lifestyle which is Hip Hop. Music (Rap, R&B, Dj's), movies, and fashion have been a part of the Hip Hop culture since the essence. The Violator name is already synonymous in the Hip Hop culture for music management, but now with new technology and fresh new blood in the boardroom of Violators Unlimited Inc. they will take on the challenge of maintaining Violator's brand globally. August 2016 had marked 30 years of a brotherhood and friendship that turned into a multi-million dollar company and conglomerate. The team is compiled of the original members of the Violators and entertainment industry veterans who have been successful in their private endeavors in their respective fields. And the saga continues…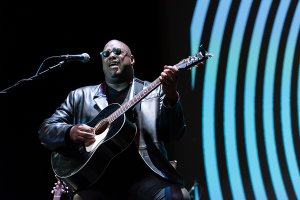 The term "Everything starts in the streets" never spoke truer than when these brothers from The Bronx took over the streets of New York. The Violators started out with a friendship between two friends from the same building on Harrod Ave in the Bronx River Houses "the home of Hip Hop". Chris "Ali" Arlee and "Big" Rodney Simmons lived in building 1455 with about 50 other boys, which called themselves the "55 Cru". On the other side of town another duo was forming a similar bond of brotherhood and that duo was Darryl "Sneaky D" and "Baby" Chris Lighty. Together with Big Rods cousin Hanz aka "Black Jesus" they formed the first super street group known as the Violators. The name was given to them by New York's radio pioneer Kool DJ Red Alert. The Violators would go to clubs with Kool DJ Red Alert and get into situations with other crews for taking their girlfriends, so Red Alert started saying " Y'all keep violating these guys" and the name Violator" stuck. While Red Alert was breaking acts like A Tribe Called Quest, Queen Latifah, Black Sheep and playing a vital role in "The Bridge Wars in 1986, The Violators held down Red Alert and the Native Tongue click.
The Violators became almost like an elite security team for Hip Hops elite. Red got Baby Chris a job road managing the Jungle Brothers and Chris Ali was road managing A Tribe Called Quest, which the job was then given to Darryl "Sneaky D" because of differences between Ali and the Quest crew. Baby Chris went on to manage up and coming acts like Boogie Down Productions and that's when he got the call from Lyor Cohen to work for Rush Management along with Russell Simmons. Chris Lighty later started his company and was in the top 30 music moguls every year until his death. Violator Management was a record label, marketing group, management and multi-media entertainment conglomerate that was founded and operated by Chris Lighty until his death on August 30, 2012.
The remaining original Violators did not want to lose or let someone take over the brand that was built by them and later furthered by Lighty, so they reformatted the name "Violator" to "Violators" Unlimited Inc." to further the brand and keep the legacy alive. Many of the visions that Chris Lighty had for the company will stay intact with the addition of apparel, merchandising, sporting goods and publishing. Violators Unlimited Inc. is directly responsible for the company's day-to-day operations and profitability. There is one law that Violators won't break, it's the self-imposed law of making money while retaining street credibility.
Tune in to the Violators Unlimited Radio Show on Saturday June 8th, 2019 with special guests Tomás Doncker and Khalil Kain. Lot on to https://www.iaxisradio.com or https://www.freeagentradio.com to watch/listen to this amazing interview.