April Rose Gabrielli "Rising Musical Sensation"
April Rose Gabrielli's musical career is quickly spiraling upward towards a well-deserved superstar status. Like an artist she fills the tapestries of her musical canvas with more than one brush stroke. Her brand new single "Do You" will be unveiled on July 20, 2021 on Soho Records/AWAL/SONY. The release will be followed by a live performance at the iconic "Bitter End" in New York City on July 23rd at 8:30 PM ET. 
Her song "Tameless" will also be premiering along with the documentary "Not The Science Type" on June 17th, also in New York City.
The intense lyrics of April Rose Gabrielli echoes the secrets of the mirror seeing our fears, our triumphs, our emotions. Like a roaring tempest, her music becomes etched in our memories, our hearts, our minds, and our souls. It's not always the sunshine that spreads the seed. Darkness makes the heart's case fragile, pain breaks it open, courage teases us and life unfurls and expands……not dissimilar to some of the rhyme of April Rose Gabrielli.
Let's talk about the upcoming docuseries premier event…..what was your inspiration for the song "Tameless" the producer chose that you wrote?
Sure! Truthfully, I am often not drawn to writing intentionally uplifting and encouraging songs, but given the subject matter of the amazing series, I chose to channel a certain resilience and childlike fearlessness that I often see in my young vocal, piano, writing & production students. Young people are so unhinged and truly untamed, but in a beautiful way, especially with musical instruments in their hands. I love the ease of expression in young creative people as they are coming of age; I think it's something that most creators will say that you need to stay in touch with in order to continue to be creative – or at least that's what works best for me. Being "Tameless" in anything you do will support you in being confident, unapologetic and passionate about who you are, what you make and what you do. Jacob (KULICK) really helped bring the message full circle with fresh and uplifting instrumentation and lyrics that really drove the feeling of being "Tameless" effectively throughout the song. I knew the feelings I wanted to convey, I had chords and melodies, but he wove it into a succinct story that really worked for the producers of "Not the Science Type" – and I am so happy that it came together this way.
Will you be performing it ….or anything during the summer now that the world is opening up?
Yes! I hope to be playing quite a bit throughout the summer as the world is opening back up. I have a full setlist of songs that I will be performing as much as possible. My first live show (for the first time since February 2020) and my first solo show with a band (ever) will be at The Bitter End in NYC on July 23rd, 2021 with Kulick opening & playing my songs as well!
Tell us about the song you are about to release? What inspired it?
The next song I will be releasing is called "Do You" and if you have been to a show of mine since 2019 or tuned into any of my live streams during quarantine, you have definitely heard it. It will be released in late July! "Do You" tells the story of a young, chronically ill person, hiding in plain sight who centers their love and experiences around different means of communication. It was originally inspired by my unintentional mastery of the art of emotional deflection, for fear of seeming too needy or selfish. Ultimately though, it's a different kind of celebratory love song.
Do you have any major summer plans?
For the summer I will be playing a handful of shows and events while continuing to write and produce my debut EP & LP. I also hope to travel and continue to work on booking shows, tours and events for the remainder of the year and next!
How do you think that you have contributed to society thus far?
This is tough. As I mentioned before, I have had the privilege of being a music teacher for a number of years now and I have been able to see students grow from not knowing a single key on the piano, to playing chords and scales with both hands and showing their favorite songs to their parents. It's really cool to give someone a skill they can take with them throughout their lifetime that gives them personal value and connections. There is no way to know for sure – but I hope that I have encouraged people to grow and find personal happiness in who they authentically are. I don't really stress about what people think of me and when I have it's a horrible feeling, so I hope I have/and can continue to encourage more people to be authentic and think less about what other people think.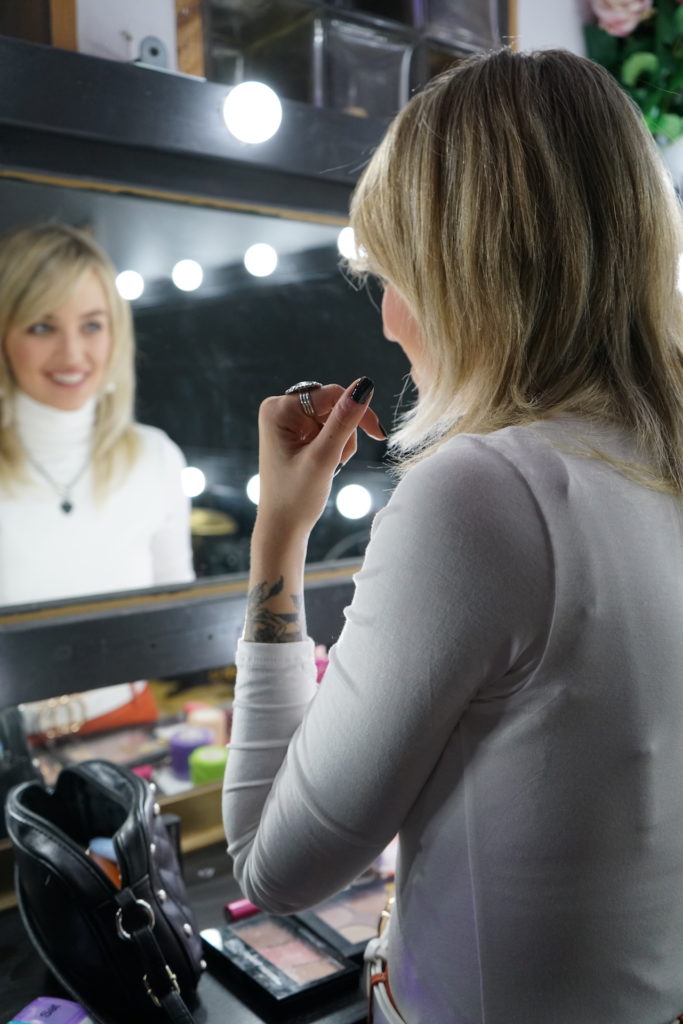 Do you have any other projects in the works at the moment?
I always have 500 projects going on in my mind, but other than my solo music endeavors, I am helping to write and produce music for Kulick's next record, as well as working with a handful of other great artists such as Tara Lynn Rye on her debut single & the magnificent Allison Trujillo Strong on some new material. I also have been working on a poetry and illustration book since the beginning of 2019.
April Rose Gabrielli:
music – https://open.spotify.com/playlist/52DGgf7BF7PBJey5dFhdrK
website – www.aprilrosegabrielli.com
facebook – www.facebook.com/aprilrosegabrielli
instagram – www.instagram.com/aprilrosegabrielli
twitter – www.twitter.com/aprilrosegabrie