Beacon Publishing Group Releases "Star Cruiser Titan" Written By C.G. Mosley In Audiobook Format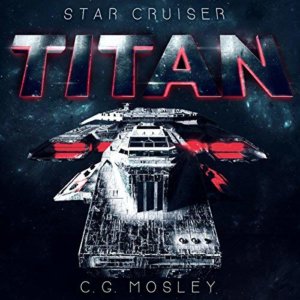 Beacon Publishing Group has just released "Star Cruiser Titan" written by C.G. Mosley and narrated by Doug Greene in audiobook format. Now available worldwide, download your copy today!
Located on a top-secret base on the dark side of the moon, the SC Titan has just been completed. A star cruiser unlike anything the world has ever seen, the Titan can carry 40 star fighters called Comets and with them an elite roster of pilots and crewmen – the best of the best. When first contact is made with a highly advanced alien race, the Titan and her crew are dispatched on a journey across the galaxy. A journey that will have far-reaching consequences for all of humanity.
C.G. Mosley was born and raised in a small town in east central Mississippi. Other than writing, he also enjoys watching Dallas Cowboys football and Nashville Predators hockey on television, camping with his family and spending time with friends. C.G. lives in Mississippi with his wife of 15 years and their three children, two dogs, chickens, five cats and their rescue pig, Wilbur.
Download your copy of "Star Cruiser Titan" written by author C.G. Mosley and narrated by Doug Greene on audible here:
https://www.audible.com/pd/Sci-Fi-Fantasy/Star-Cruiser-Ti…;
The official website for Beacon Publishing Group may be found at www.beaconpublishinggroup.com
Follow Beacon Publishing Group on Twitter @BeaconPubGroup
For more information or services offered contact info@beaconpublishinggroup.com