Gideon King & City Blog want to be your tour guides through the Upscale Madhouse
New York City is a lot of things to a lot of people.  A lot of people.  Dirty city of dreams.  Tri-borough microcosm of true American culture.  Metal and Asphalt home of rats and the Rat Race.  But to Gideon King & City Blog, it is an "Upscale Madhouse" and everything that term connotes.
That is what they've chosen to call their newest Jazz and pop-infused release that is an ode to their home city.  The album drops on the world on August 10th, but we were lucky enough to get our hands on an early copy after hearing their catchy new single "Fake It On Facebook" that just dropped.  The track incorporates elements from classic jazz, rock, and pop, just to name a few.  Lyrically, it's light-hearted cynicism and social commentary are what make it truly stand out.
"Everybody tripping on their own motivations and instincts [in New York]…  The tune 'Fake It On Facebook' for example, is kinda based on this woman who hitched up with a wealthy guy who was 5,243 years her senior…  People photoshop their lives on Facebook with great deliberation, but they are still animals in their natural habitat."

— Gideon King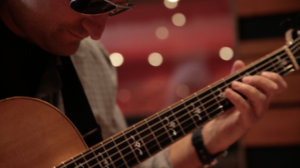 If you are a fan of Stevie Wonder, Steely Dan (who most of the band count as a major influence), and Earth, Wind & Fire, Gideon King & City Blog take the best of those acts by delivering stunningly intricate harmonies and song writing that makes you feel things.
"[It] Was fun to riff on these [New York] stories a bit.  No heavy social commentary or judgement or anything.  I leave that to the deep thinkers…  Great musicians [are] woven into this thing all over the place."

— Gideon King & City Blog
You can find "Fake It On Facebook" everywhere as of today.  The second single and title track, "Upscale Madhouse" drops on July 13th, and you can stream the album on August 10th.
We think Gideon King & City Blog are absolutely amazing.  But in true Reading Rainbow fashion, you don't have to take our word for it:
"Some of the most complex and satisfying music you may ever hear, layered with impressive solos & variegated chord progressions."

— Rebecca Bonham, Huffington Post

"A little bit Donald Fagan, a bit of Stevie Wonder, and big helping of New York City street jazz."

— Allison Boron, POPDOSE
Follow them for more info about them, the album, and the upcoming tour dates: