Edie's Backyard BBQ: "A Tribute to Edie, A Benefit For the David E. Rogers Center Soon to be the Edie Windsor Center"
A bright, sparkling, vivid, sun-lit day adorned the Green Carpet of vibrant, lush, summer grass, a perfect ambience for Edie's Backyard BBQ, to benefit the soon to be Edie Windsor Center, part of Stony Brook Southampton Hospital. Currently the David E. Rogers Center provides HIV medical and psychological health care in Eastern Suffolk County. In honor of the life and legacy of Edie Windsor, a ground-breaker and innovator who paved the way for same-sex marriages, the center will be re-named the Edie Windsor Center, and will expand its services.
Edie Windsor dedicated her life to advocating for social justice within the LGBTQ community. Edie was the lead plaintiff in the Supreme Court case United States v. Windsor which overturned the Defense of Marriage Act. This was considered a landmark victory for the same-sex marriage movement.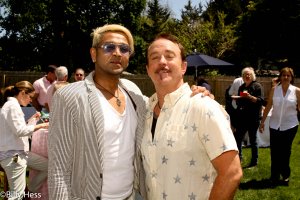 What was to be thought to be a usual fund raiser became a star-studded political Fantasia, all attending in honor of Edie Windsor. The event was hosted by the effervescent widow of Edie, Judith Kasen-Windsor, and the dapper Jimmy Mack.
Among the honored guests was Alphonso David, Chief Counsel to Governor Cuomo, and responsible for writing the same-sex marriage law in New York. The handsome and vivacious attorney and law professor was appointed by New York Governor Andrew Cuomo as counsel in 2015 where his functions include being chief counsel and principal legal advisor to the governor, overseeing all significant legal and policy deliberations affecting New York State, including evaluating proposed legislation, and implementing laws and policies. He has also served as Deputy Commissioner at the New York State Division of Human Rights. Alphonso David is well recognized for his constant fight for social justice….
Alphonso, what is it that you do exactly?
Alphonso: I am the chief counsel to the Governor for New York.
That sounds important.
Alphonso: I'm responsible for all the legal decisions. Essentially I have a staff of lawyers and general counsel, and we review statutes and regulations. When the governor advances proposals we memorialize them into legislation.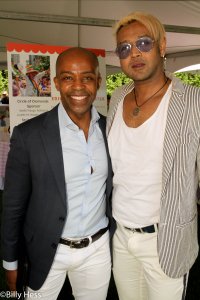 So specifically why have you come to this amazing event?
Alphonso: I'm here to support Judy Windsor. I'm here to support the legacy of Edie Windsor, and I'm here to support LGBT rights. So there is the Edie Windsor Center and I am involved in supporting that. I wrote the marriage equality law in New York. I litigated the marriage place in New York and we won on ground point level.
Another very special guest to arrive was the captivating and animated Attorney General of New York, Letitia (Tish) James, having won the election in 2018. She is the first African-American and first woman to be elected to this position. When asked her reason for attending she answered:
Tish: "As we celebrate Memorial Day we celebrate all of those who made great sacrifices so we could be here and to put our right to decent particularly during this weekend. Individuals have to understand what's at stake, and everything is at stake right now. Everything is at risk right now. Fundamental freedoms. Right now this administration represent an existential threat to all that we believe in. That's why I am here celebrating Memorial weekend. That's why all of us should take a moment in time and remember what is at stake and the reason why we have Memorial weekend. It's for all that we believe in and we've got to stand up and we've got to resist and fight back".
New York State Assembly member Rebecca Seawright was also an attendee. I ease dropped on her attempting to push a bill and I had to find out exactly what she was hoping for…
Rebecca: I have an LGBT curriculum bill that I am so proud of, that I sponsored in the assembly. It would require all of the New York State public schools to teach LGBT history and sensitivity training and incorporate that into the New York curriculum. I'm very excited about this bill as well as the Equal Rights Amendment which I passed in the assembly a few months ago. We need to pass it in the Senate and I think with what's going on in the national level it's got to include women and transgender and other categories in the New York State constitution.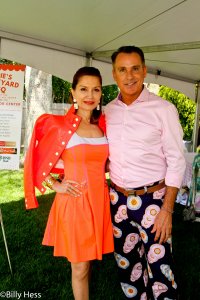 I also spoke with Jean Shafiroff, philanthropist, entrepreneur, author, and socialite. She penned the book "How to Make a Life by What You Give", telling about her experiences as a philanthropist and how to get involved in charity work.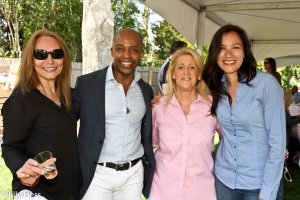 Jean, what made you decide to attend this fabulous event?
Jean: I'm a guest and also on the roster to speak. I'm going to be on the board of the Stonybrook hospital in July. At the Stonybrook Southampton Hospital they will be honoring my husband and I this year, but I'm here for the LGBTQ community. It's wonderful what Edie did for the future LGBT community. I'm here to honor her and also to support this wonderful effort of Stonybrook Southampton Hospital. When I was much younger my cousin died at 28 years old from AIDS. He was attending law school and today he would've been alive. So all the great things moving forward about healthcare are so important. We are all created equal regardless of what your religion is, your racial background or your sexual preference. In my life it doesn't matter. When we meet God there is going to be one line whether you were cleaning the floor or on top of the world. The ones cleaning the floors will probably be on top of the line. I have to say we are all one and 95% of all of my friends are gay males. It's wonderful that women who are connected to a female partner now don't have to hide in the closet where they had to years ago. It's all great!
Also included were many of the Suffolk County and Southampton leaders as well as Brad Hoylman, NY State Senator, Kenneth P. LaValle, NY State Senator, Fred W. Thiele Jr., New York Assembly member, and television actress Gloria Reuben, who starred on ER, and is currently on RoBo Cops.
From the moment we pulled up to the Southampton home to the valet parking and the cheerful and funny girls checking everyone in at the onset, the experience was exhilarating. Enchanting pink, white and lavender unicorns floated in the turquoise in-ground pool, pastel beverages, wine and soda flowed gracefully and the BBQ delicacies were decadent. The vibe was lively and friendly and one couldn't help but make friends at every turn. Host Judith Kasen-Windsor and Jimmy Mack couldn't have been more gracious, spirited and warm. DJ Karen Ward played the perfect selections while several of the 300 attendees danced by the pool. The event was well thought out and organized. The entire extravaganza was a flawless and beautiful way to begin the summer.