In The Shadow Of The Jackal – The Plot Thickens In "Temple Of Ghosts" Volume 3 By J.H.Moncrief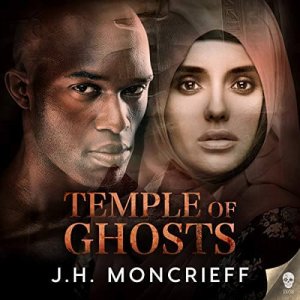 In the shadow of the jackal…
Medium Kate Carlsson has returned from Poveglia with Jackson, but there's no time for domestic bliss. Something strange is happening in her sleepy Vermont town – water turns to blood, frogs fall from the sky, and an unlikely stowaway lurks in her kitchen. Even worse, Kate's friend Eden, a noted Egyptologist, has gone missing.
Darkness surrounds Kate's protege, 12-year-old Lily Walkins, and Lily's uncle, a soldier who died in Egypt while working on a top-secret government project. Kate suspects the soldier's untimely death holds the key to the disasters befalling Nightridge.
To solve the mystery and save Lily, Kate and Jackson journey to an ancient temple where the line between god and monster is blurred. With the help of an enigmatic Egyptian psychic, they must face their greatest foe yet.
Download your copy of "Temple of Ghosts: GhostWriters Volume 3″ " written by author J.H. Moncrieff and narrated by Ray Lesniewski in audiobook format on Audible in the United States here:
https://www.audible.com/pd/Temple-of-Ghosts-Audiobook/B07JGBR7V7?qid=&sr=&ref=a_author_JH_c9_lProduct_1_5&pf_rd_p=e9e52ec0-c05e-4911-8746-2586073224ad&pf_rd_r=N03SMP3NQN4KJ8Z1BZ1A&
The official website for Beacon Audiobooks may be found at http://www.beaconaudiobooks.com
Follow Beacon Publishing Group on Twitter @BeaconPubGroup
For more information or services offered contact info@beaconaudiobooks.com