The Second Coming of Caroline Williams: "Completely Exposed" In The Holiday Themed Slasher "Hanukkah"
Scream Queen Royalty Caroline Williams (Texas Chainsaw Massacre 2, Halloween II, Sharknado 4, Hatchet III, Leprechaun 3, Stepfather II, the list goes on and on) is completely exposed in the new holiday themed slasher "Hanukkah" written and directed by Eben McGarr. "Hanukkah" is coming to theaters just in time for the holiday season, with a Red-Carpet Premiere in Los Angeles, California on December 1, 2018.
Caroline Williams is no stranger to controversial roles, playing Stretch in The Texas Chainsaw Massacre 2 (who can forget her encounter arousing Leatherface over the ice bucket to save her life), and has avoided going nude in her films over her incredibly iconic 40 year career. Now playing a mother in "Hanukkah", Williams is approaching her role in an extremely non-traditional way, breaking all the barriers and creating a gigantic twist, by exposing all in this realistic, gritty horror thriller. When most of her peers are winding down and playing it safe, Williams is taking the industry by storm, and fans of the genre are going to really be taking notice. Caroline Williams is expressing her evolution as an actress, and the movie screens are going to be sizzling. She is taking the role of being a mom in any genre of film to another level. Kudos!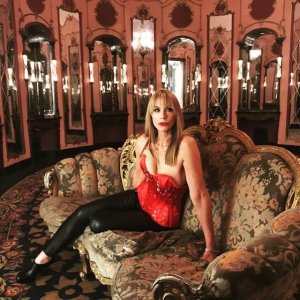 In addition to Scream Queen Caroline Williams, who plays Ana Lazarus, "Hanukkah" stars Sid Haig (Spider Baby, House of 1,000 Corpses, The Devil's Rejects) as Judah Lazarus, P.J. Soles (Halloween, Carrie, The Devil's Rejects) as Mrs. Horowitz, and Charles Fleischer (Who Framed Roger Rabbit, A Nightmare on Elm Street, Zodiac) as Amon Feist.
"Hanukkah" Synopsis:
"Obediah Lazarus is the son of Judah Lazarus, the original Hanukiller. In 1983, Judah terrorized NY for seven nights and was preparing to sacrifice his eight-year-old son, Obediah, on the eighth night. Judah was convinced it was God's will, like Abraham and Isaac, to sacrifice his only son to God. Luckily for Obediah, police tracked Judah down and stopped the sacrifice, but Judah was gunned down in the process. Warped by hatred with no guidance, Obediah Lazarus becomes a religious extremist, intolerant of non-Jews, "bad Jews", and those he perceives to be enemies of the Jewish faith. He is about to unleash eight nights of horror. A group of Jewish teens are getting ready to party for the holidays, but are in for a Festival of Frights. With the help of a wise Rabbi, they deduce that the murder victims have violated Judaic law and that their only chance at survival is to embrace their faith."
Check out the "Hanukkah" Teaser Trailer here:
Don't Miss this incredible new horror thriller….
Follow Caroline Williams on Twitter @WilliCaroline
Follow Caroline Williams on Instagram http://www.instagram.com/willicaroline
Check out Caroline Williams on IMDB https://www.imdb.com/name/nm0930226