Sharon Brown: Appearing at the SoHo Johnny Classic Summer Disco Extravaganza August 10th, 2019 in Stamford, Connecticut
Singer, songwriter, and producer Sharon Brown will be appearing at an all day and night Disco Extravaganza on August 10, 2019 in Stanford Connecticut. The event is produced by Soho Johnny who is a true heartfelt music lover. The disco party will be hosted by Deney Terio and includes: Harold Melvin's Blue Notes,Tavares, Planet Patrol, Heatwave, Double Exposure, Constantine Maroulis from American Idol, Instant Funk, Jimmy Bo Horne, Teri DeSario, Fonda Rae, Monti Rock III, Star Hanson, and many others. There will be free food, and drinks available to purchase. A portion of the proceeds to benefit the American Cancer Society.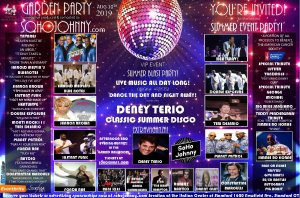 Sharon Brown wrote music for the iconic group Blood, Sweat & Tears, as well as working with Ronnie Dyson, and Todd Rundgren. She is particularly known for her hit song "I Specialize In Love", which made the Billboard Hot Dance Club Play charts. I spoke with Sharon and loved her instantly. She was full of spirit and life and was also very funny….
You are going to perform at this fabulous Disco party on August 10. What can the audience expect from you?
Actually, my host Soho Johnny has invited me to perform some of the new material as well as the old. So, I am really excited about that. The audience can expect something brand new for them and the old of course, and we're just going to have a good time. It's a garden party and a lot of my colleagues will be there from the dance and disco days. So, it should be a really, really amazing event.
You've had a very cool music career and have worked with a lot of really cool people, who do you recall having the most fun with?
The coolest fun that I've had with my colleagues was in the jazz genre actually. Grover Washington Junior. Grover and I hung out at the same club in Boston. Grover and I met and we just clicked. He is such a cool, cool, down-to-earth cat. He's very creative and very talented and we hung out all night until the sun came up. We really shared the sunrise together. He spoke to me about his future projects and he really, really wanted to do an album with Sly and the Family Stone. Well actually Sly Stone, he had mentioned that to me and I had known Sly so we talked about that. He was very excited about it because I was also a song writer, and I had written things for Sly personally. I had the most memorable time with Grover Washington, I have to say it was Grover.
You have written songs for lots of people, who else have you worked with?
When I came into the business I came in as a songwriter for CBS records. My first song writing project was for Blood, Sweat and Tears. The lead singer Thomas had just left the group and Blood, Sweat and Tears was regrouping. There was another Rock group called Rare Earth. Rare Earth had a lead singer by the name of Jerry McRoy. Jerry left Rare Earth and joined Blood, Sweat and Tears around the same time CBS records was looking for a new direction and new material for them. I came in right at that time. Jerry McRoy is actually singing the lead song of a composition that I wrote. It was released on the album with all the eyeballs of the group on the front cover. My song is the third song on the A side of the album called, "Love Looks Good on You." I've been writing the theme about Love for a long time. I just realized that I have a pattern. Blood, Sweat and Tears was my first professional song writing gig that I actually was paid for. I joined BMI as a songwriter. I went on and I met Ronnie Dyson who was the lead singer for the song "Aquarius" from the Broadway play of Hair along with Melba Moore. I did a complete album on Ronnie but actually to this day it's sitting on the shelf of CBS records. A lot of things transpired. Ronnie passed away. So, the music was never released. I sang all the demos for him and we moved out to Los Angeles to record Ronnie so that he could have a full experience of recording and being himself without any outside distractions from New York City. Unfortunately, Ronnie passed and it didn't come out. Ronnie was the only artist that I had ever met in the business that had the same vocal ability as me. We both sang in the same key and sounded very similar. We had similar stories of broken families, so Ronnie was like a little brother to me. It was very sad to lose him. Maybe someday CBS will release some of those songs because I took him in a whole new direction and he really sounded angelic. I really wish the public could hear it. Other than that, when I was in California, Norman Whitfield became my mentor. I did mix and produced a song that I was going to give to Sly Stone for his new release, an album he had out in the 70's called, "There's A Riot Going On." There was a song on it called, "There's A Riot Going On" that was a blank song. So I wrote it and I tried to get it to him but we kept missing each other. But my manager Ron Richardson just informed me that Sly is getting ready to release new material so it would be nice to see if I could get a hold of him now. It's really a great song, I just filled in the blanks. It's tailor made for him. We will see what happens with that. Curtis Mayfield and I linked up when I was 19 years old and I developed as a songwriter through him. It just progressively got better. I started doing things for James Brown. He was the first one to take me to New York City and although it didn't work out, we stayed friends. He encouraged me to go on and pursue my career to be an artist and a songwriter. So here I am and then I started writing for myself.
How cool.
I had a very a very huge underground hit called "Family Tree" that we are still trying to backtrack that song. It got away from us and someone else is collecting the publishing. Harry Fox has it registered under someone else. They have been mixing and selling the record for years. We are trying to backtrack it now because it is part of my legacy. Then I started my own label in 1986 called "TAZ", and I released this song called, "I'll Make You Feel Like the First Time." I actually released it on vinyl. I'm going to be bringing some vinyl to the gig because vinyl is back in and it would be great for collectors. Mine is classic vinyl so I will be auctioning them off with pictures and photographs. That money could go towards The American Cancer Society which Soho Johnny plans to send some of the proceeds to. There are music lovers and collectors who love the vinyl.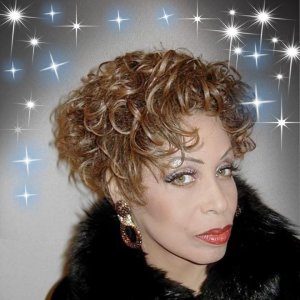 Sharon you sound like you're so much fun.
My grandkids and my great grandkids also ask me how come I can be so cool. My daughter is a disciplinarian but I'm the fun one. I'm the cool one in the family. Matter of fact they don't call me grandma or nana, they call me Girly Girly. Sometimes in the summer especially when they were younger they would come to my house and we would call it: Camp Girly Girly. I'd opened for business. I had them all. I love family. I don't have a lot of money, but I know how to have fun!
Get your tickets to the SoHo Johnny Classic Summer Disco Extravaganza taking place on August 10th, 2019 in Stamford, Connecticut here: https://www.sohojohnny.com