Live Review: The True Groove All-Stars Starring Sam Huber and Special Guests: Scott Page, Mike Hampton and Josh David in NYC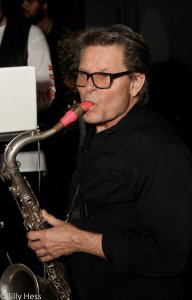 Some of the planet's most iconic musical anomalies joined forces last night in New York City for an opulent jam session with The True Groove All-Stars featuring Helsinki pop/funk recording artist Sam Huber as part of their residency at the Park Side Lounge in NYC. Special guests included: Superstar Scott Page, saxophonist and rhythm guitarist for Pink Floyd, Supertramp, Toto, and Think:EXP, Mike Hampton, Rock 'n' roll Hall of Famer from Parliament-Funkadelic, and Josh David from the original Bob Marley's Wailers.There was also an appearance by Jazz recording star Regina Bonelli who did a stirring rendition of Pink Floyd's "Great Gig In The Sky." Surprise guest Garrison Hawk, known for his work with Tricky made an unexpected, staggering appearance as well.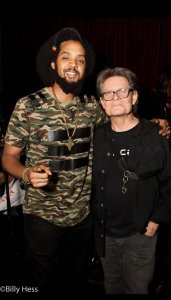 A joyous hysteria moved about the room as the crowd anticipated the spontaneous cascade of distinguished and acclaimed superstars about to capture the stage in the mutely lit, cabaret styled backroom bar. The vibe of the evening screamed musical orgasm even before the gig began. Once singer Sam Huber took the stage the fullness of the sonic integrity screamed climax.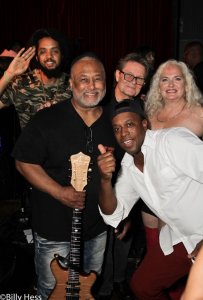 Sam Huber completed two dynamic sets of songs infused with a Tom Jones vibe, a David Bowie spirit, and a George Clinton attitude. Huber is a powerful vocalist as well as a song writer. Classically trained as a pianist, Huber also took over the keys for several tracks applauding the jam with an electronic excellence. However his vocals caused an excited frenzy and flamboyant effervescence tantalizing the crowd and forcing them to Rock On. Huber recently released a brand new album called "Songs for Mona", a tribute to his mom's song favorites on the True Groove Record label. The grand finale included Jamaican reggae and hip-hop artist, Garrison Hawk adding his style to "Could You Be Love."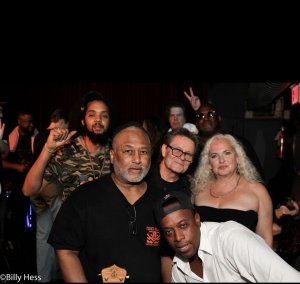 It was a vibrant evening triumphed by riveting guitar solos via Mike Hampton, and True Groove mastermind Tomás Doncker. Insane riffs filled the intimate lounge with the piercing cry of musical genius illuminating the stage. The zesty bass played by Josh David kept the band together and supported the harmony in first class style.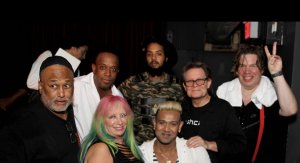 Scott Page eloquently took the jaded, melancholy underground language of the saxophone and brought it to a sexy, salacious level, dangerously exploring its darker side then bringing those chromatic notes to a whole new height, convincing it to appear to have human inflections and articulation while intending to steal your soul. The band saluted Floyd with "Have A Cigar" and "Us & Them", celebrating an arousing pinnacle to the already voluptuous performance.
Tomás Doncker, a world class artist, President of "True Groove Records", New York's fastest rising record label and forever astounding, masterminded the project while promoter Jason Chaos proved indispensable to the evening's festivities. Pop artist Natasha Komis and actor James Farley mixed in with the crowd for support. Celebrity photographer Billy Hess supplied the photos and Dylan Mars Greenberg shot the videos.
The victorious, once in a life-time, remarkable phenomenon, rightfully transformed into a historic musical extravaganza with The True Groove All-Stars shining as always. You can see them starring Sam Huber and actor, songwriter Khalil Kain on July 21st at Berlin.
As the stage grew dark the congregation stood in applause and shouted out for more. Their pleas fell on deaf ears and the project had finalized, but those experiencing it will never forget the magic…..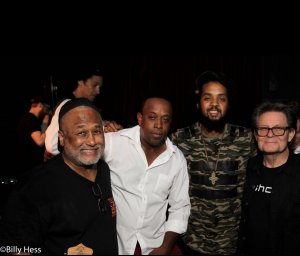 Photos by Billy Hess https://www.billyhess.com