SohoJohnny To Introduce The Marshall Tucker Band At The Montauk Music Festival on August 21, 2021
The world is no bigger than the people that inhabit it, and the world seems huge to those who know John "SohoJohnny" Pasquale. SohoJohnny was born in New York and raised in the Bronx. He learned early to embrace the warmth of our ordinary days however his love for music was anything but ordinary….

"Follow that man, there must be a carnival somewhere"…..is the vibe that is attached to SohoJohnny's persona. That and giving back or paying it forward. Taking on the city of Manhattan with the strength of a warrior and yet the child-like innocence of an angel, SohoJohnny has made a massive splash in the entertainment industry while creating the "Let Me Help, Inc." Foundation whose mission is to help others in desperate need through music, dance, and laughter.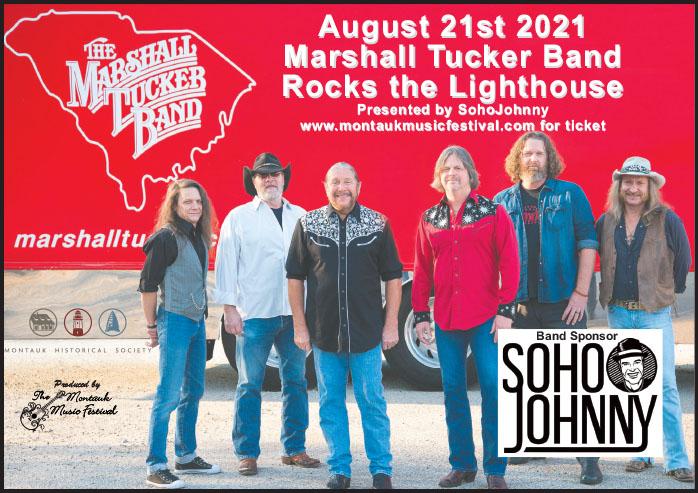 Constantly inspired by music, SohoJohnny has produced dazzling extravaganzas and soirées in the name of philanthropy. He has produced 2 record labels, "Tribeca Records" and "SohoJohnny Records" where he signs rising artists including "AniMaze X", "April Rose Gabrielli", "Juliana", and others. He has appeared in several notable movies, and on many popular TV and radio shows. He has also appeared on magazine covers of some of the most popular publications on the planet. His events are always gloriously successful and well received. He has supported charities including: "Meals on Wheels" during the Covid crisis, "The American Cancer Society", "Creative Visions" Anti-Bullying campaign, "Prostate cancer", and many others.

On August 21st, SohoJohnny will joyously celebrate and sponsor "The Montauk Music Festival" in Montauk New York introducing  "The Marshall Tucker Band"  on stage before their performance.  The festival is a promotion benefitting the Montauk Lighthouse. The Marshall Tucker Band continues to have an impact musically with every generation incorporating blues, country and jazz into an eclectic sound. The band help establish the southern rock genre in the early 1970s and is historically a very popular ticket on Long Island. Join SohoJohnny on August 21st and meet the man with the kaleidoscope eyes.
The official website for SohoJohnny may be found at https://www.sohojohnny.com
For more information on the Montauk Music Festival go to https://www.montaukmusicfestival.com