Aaron Paul To Guest On The Jimmy Star Show With Ron Russell Wednesday May 23rd, 2018
Aaron Paul will be a featured guest on The Jimmy Star Show live radio/tv show hosted by King of Cool Jimmy Star along with Cool Man About Town Ron Russell to discuss his new album "Dance," his new book "I Don't Care," his career and the entertainment industries at large. The Jimmy Star Show With Ron Russell  is tv/radio's coolest hit show, featuring the coolest in music, entertainment, fashion and pop culture, all from a fun industry insider perspective in a completely live, unedited fast-paced two-hour conversational format.
There is no stopping this NYC dynamic recording artist just right after his fantastic debut performance at the legendary world renown NYC venue Carnegie Hall and and his 2 recent Glam Award nominations, this spring/summer 2018 proves once again that this exciting, fun and sometime thought provoking controversial artist headliner will be in full swing. Be prepared for a HOT ONE!
Pop star Aaron Paul releases his 3rd solo album…'DANCE' in May 2018. Which features 12 brand new songs. Includes 3 remake songs including his recent Chaka Khan classic hit 'AIN'T NOBODY'.  Aaron has also chosen to re-do a Diana Ross mega hit 'MUSCLES which features a duet recording with legendary NYC nightlife social life veteran writer Michael Musto and true to his music genre he has rerecorded the very 1st 80's dance classic, 'TRAPPED' by Colonel Abrams as a 2018 version. The rest of the album are all self-written by Aaron Paul. Including the haunting rock/pop anthem 'DRAG QUEEN' and the very fun over the top but true to Aaron's flamboyant lifestyle, 'POPSTAR', complete with abrand-new music video. His 3rd music video with award nominated NYC photographer Billy Hess.
Aaron Paul has always been very candid about his life. That's also part of his mainstream mass appeal. His honest frank but always positive along with his exciting energy always mesmerizes his audiences from all walks of life with music and fashion remember Aaron Paul is a US Weekly Magazine Fashion Cop. And it is no surprise that Aaron is about to have his 1st autobiographical book 'I DON'T CARE!'  (Lessons In Life Love Music and Boybands) co -written with NYC famed writer, producer, and LGBT activist Nathan James also coming out this spring. Together they have penned an honest fun account of Aaron's life journey so far. Aaron talks about his past as frontman with the Simon Cowell discovered boyband 'WORLDS APART'. His struggles with finding his true self and sexual identity, and his own solo voice in the always changing entertainment industry.  Aaron is also very open about his past loves and relationships and his recent dramatic short lived but traumatic relationshipss and encounter on a cyber-sex app. Yes, pop stars use them too. This is vividly depicted in photographer Billy Hess' recent sexy, but controversial photo shoot, which shows a very different Aaron Paul that we have never seen before from this forever flamboyant artist.
I DON'T CARE! is intended as a fun, quick read. It strongly embodies Aaron's witty personality, with a take on his own life, as well as offering insight and a map of guidance for someone wanting a career and navigating through entertainment industry while walking in their own truth.
We were first introduced to Aaron Paul as the lead singer of the successful internationally renowned Pop boy band, WORLD APART.  The group came to the attention of Arista Records, Executive Simon Cowell (American Idol, Britain's Got Talent and X-Factor) impressed by his incredible pure voice, natural performance skills and fun personality, Simon positioned Aaron as lead vocalist/front-man and led the group to their chart success.
The group had a unprecedented chart-run of over (5) top 30 UK singles including: Heaven Must Be Missing An Angel', (recently featured on the soundtrack in the huge blockbuster and academy award winning movie "The Queen"), 'Everlasting Love', 'Wonderful World' (written by Aaron Paul & fellow band member Patrick Osbourne), and their biggest hit 'Could it be I'm Falling in Love', and many more
There is nothing that this artist and his unique personality can't do music, fashion, hosting and writing books. And he is only just scratching the service of what is yet to be another milestone year for Aaron Paul.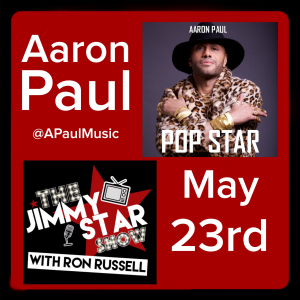 The Jimmy Star Show is pleased to showcase the expertise and talent of Aaron Paul and all anticipate a fun and informative time talking with him about his career and the entertainment industries at large.
Join King of Cool Jimmy Star, and Cool Man about town Ron Russell as they have a playful and sometimes wild time with the talented featured guest!
To hear/see Aaron Paul live on the Jimmy Star Show with Ron Russell tune in to W4CY radio on Wednesday May 23rd, 2018 from 3-5 pm ET and 12-2 pm PT online at www.w4cy.com  from anywhere in the world!
Follow the Jimmy Star Show on Twitter @jimmystarshow
Follow Aaron Paul on Twitter @APaulMusic
The Jimmy Star Show may be found at http://www.jimmystarsworld.com
The official site for w4cy radio may be found at http://www.w4cy.com
The Jimmy Star Show is syndicated and can be heard on the following radio stations:
Http://www.w4cy.com in wellington, florida
Http://www.hamiltonradio.net in trenton, new jersey
Http://www.k4hd.com los angeles, ca
Http://www.iheart.com/show/the-jimmy-star-show/
Http://www.audioboom.com/jimmystarshow
Http://www.soundcloud.com/jimmystarshow
Https://itunes.apple.com/us/podcast/the-jimmy-star-show/id532912477?mt=2
Https://www.jimmystarshow.podomatic.com
Https://plus.google.com/105717043487953174915/posts
Http://www.stitcher.com/podcast/jimmy-star-show/spookshowtv-the-jimmy-star-show
Aaron Paul – POPSTAR  – CD Cover:
Joseph Boggess Photography
Makeup by Joseph Boggess
Jewelry by Morra Designs Jewelry
Aaron Paul – CARNEGIE HALL-  Steps:
Sourov Mukherjee Photography
Makeup by Mark De Alwis
Silver jeweled Jacket (EmulEos Collection) by Emily Prozinski