Join Actor/Producer/Writer Ken Davitian on FanRoom Live Thursday July 29th, 2021 6 PM PST/ 9 PM EST
Join Ken Davitian for a virtual meet and greet on FanRoom Live with Host Jae Benjamin, Co-Host Stacey Toy and guest Co-Host Maxim model Sherry Nelson on Thursday July 29th at 6 PM PST/ 9 PM EST.
Actor, humorist, and restaurateur Ken Davitian is best recognized for his role as Azamat Bagatov in one of the funniest films on the planet "Borat." More recently Davitian has been seen as the landlord in the Netflix super hit series "Cobra Kai." He has also appeared in a baggage of movies and Television shows including: "The Sex Addict", "Price For Freedom", "The Samuel Project", "Walk of Shame": "Get Smart", "The Shield", "Six Feet Under", "Boomtown", "Boston Legal", "Line of Fire", "Saturday Night Live", "Hawaii Five-O", And many others too vast of a list to mention.
FanRoom Live is a digital platform that connects actors, authors, comedians, athletes, and celebrities to their fans in an intimate platform of virtual events conducted like "town-hall" meetings. FanRoom Live events feature Q&A sessions, giving fans access never experienced before.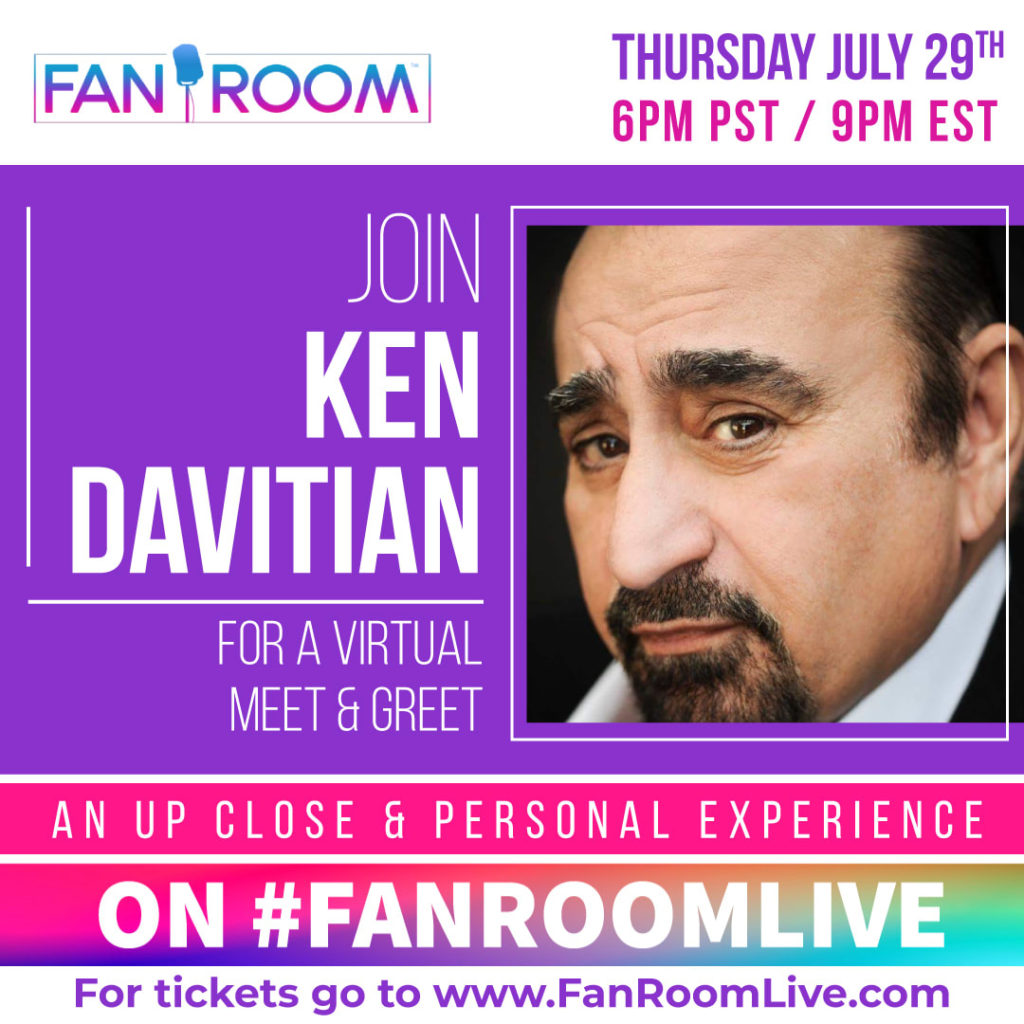 FanRoom is the brilliant collaboration of an actor/producer, talent agent and celebrity event producer in response to the pandemic that stilled the entertainment industry. Fighting boredom, depression and isolation, the public is hungry for normalcy. Cedric the Entertainer, award-winning actor, producer, and comedian, Mich Faulkner, CEO of 123 Talent, and Jeff Krauss, President of event production and entertainment company IE Group, designed a new reality. They brought on Host and CO-EP Jae Benjamin, as well as, CO-EP and Co-Host, Stacey Toy. Pooling their talents and resources, they created a solution for staying home and social distancing while getting an intimate entertainment fix for eager fans. Artists connect with fans in ways never possible before. FanRoom Live became an instant success. Previous guests of FanRoom Live include Cedric The Entertainer, Ice T & Coco, CJ Ramone, Paul Wight, George Lopez, D.L. Hughley, Brant Daugherty, Holland Roden, Kurt Angle, Jake The Snake Roberts, Richard Kline, and George Wayne the former Vanity Fair scribe.
Get your FanRoom Live tickets to meet Ken Davitian on Thursday, July 29th, at 6 PM PST/ 9 PM EST by going to https://www.fanroomlive.com