Jason "Bea" Schmidt Guests On TriVersity Talk! On Thursday July 29th, 2021 at 7 PM ET
Wendy Stuart Kaplan and Steven Bloomer-Teague will be hosting TriVersity Talk this Thursday at 7 PM ET with featured guest Jason "Bea" Schmidt of The Golden Gays.
TriVersity Talk! is a weekly web series with featured guests discussing their lives, activism and pressing issues in the LGBTQ Community. With TriVersity Talk!, the goal is to advocate, educate, and entertain.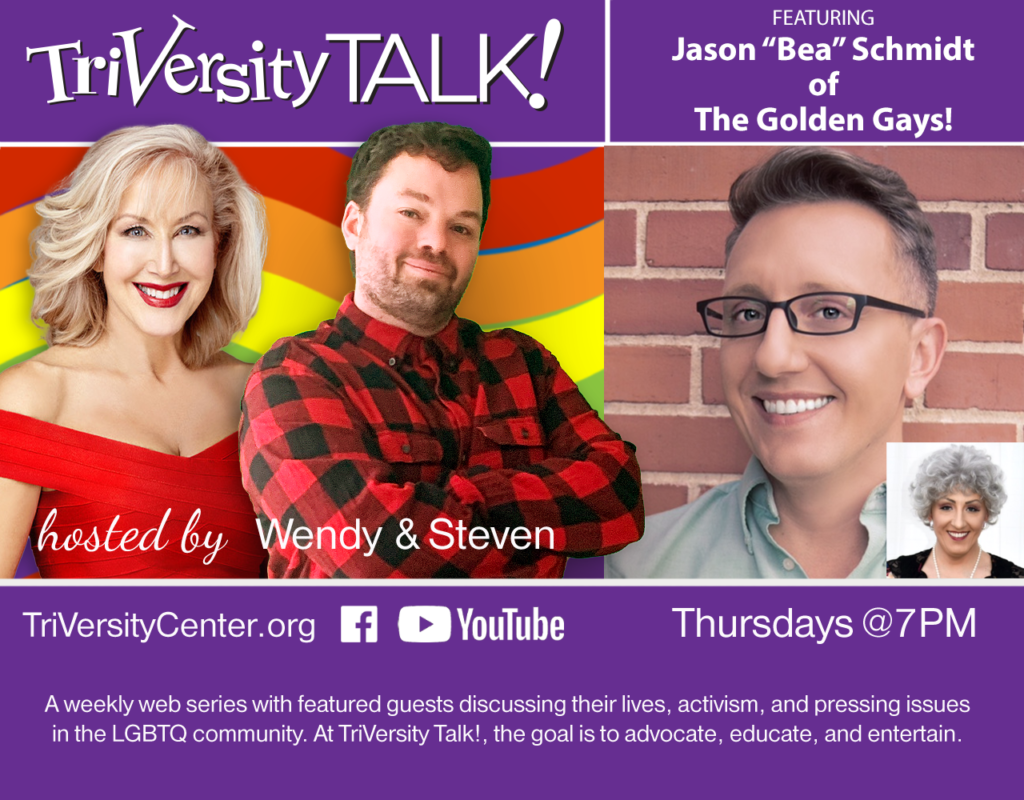 TriVersity Talk! Is part of TriVersity's ICARE Initiative. ICARE stands for Increasing Community Awareness through Relevant Education. ICARE Programs are generously funded by The Greater Pike Community Foundation.
"If I'd had the money, I could have been living in a swinging condo, instead of with… I better not say anything till I've had my coffee. *drinks* A slut and a moron. I'm sorry, it must be decaf."
LIVE on Thursday, July 29th at 7 pm EDT, 'TriVersity Talk!' features Jason "Bea" Schmidt–The Dorothy–of the hilarious trio, the Golden Gays NYC. Wendy and Steven can't wait to learn more from Jason about what inspired his love of the great Bea Arthur, how "The Golden Girls" shaped LGBTQ+ culture, and what life is like when Jason isn't dressed liked Dorothy!
Join us through Facebook, YouTube, or find at https://www.triversitycenter.org
More on Jason: Jason Bea Schmidt, The Dorothy. Jason is the world's premier Bea Arthur impersonator. He lives "down the shore" in Neptune, NJ with his husband and poodle. He's an actor, voice-over talent, and member of the hilarious drag trio the Golden Gays NYC! His Golden Girls journey began with "Thank You for Being a Friend: The Musical" spurning his one "woman" show "Beatrice Arthur: Astral Dame", and then spurning the Golden Gays NYC. What's next? Golden Girls: Infinity Wars?! He has worked alongside drag legends Joey Arias, Sherry Vine, Flotilla DeBarge, and Lady Bunny in his extensive off-Broadway, Cabaret, and Comedy Club credits. https://www.JasonBSchmidt.com
Watch Jason "Bea" Schmidt on TriVersity Talk! Live on Thursday at 7 PM ET on Youtube here:
Or on the TriVersity Talk! Facebook page here:
https://www.facebook.com/75258021683/posts/10159383650311684/
The official website for the TriVersity Center may be found at: https://www.triversitycenter.org