ON JULY 1, HEART-CENTERED SINGER-SONGWRITER LINDA MARKS HONORS THE RESILIENCE OF THE HUMAN SPIRIT WITH NEW SINGLE "THE LION"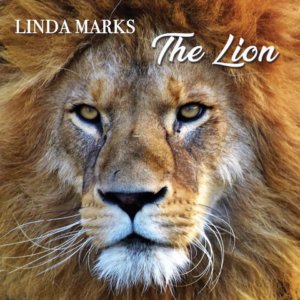 Linda Marks, a lifelong singer-songwriter and arranger, has spent her adult life shining her heartlight on the lives of others. Her original song, "The Lion," will be premiered on all digital platforms on July 1st. The premiere comes in anticipation of the release of Marks' newest album, Moments,being debuted on September 27 at historic Club Passim in the heart of Harvard Square.
"The Lion," a timely song of hope and strength, chronicles the journey of a very accomplished and successful individual whose life unraveled due to the dark shadows of alcoholism and accompanying mental health issues. The recent deaths of Kate Spade and Anthony Bourdain illustrate that underneath the veil of financial and professional success, the power of invisible dark shadows can truly haunt our lives. The song, incorporating a beautiful, spiritually inspiring three-part harmony vocal arrangement with flute over a piano accompaniment is both a prayer and a love song, invoking celestial energies to nourish "The Lion's" spirit to soar, touch the sky and prevail against all odds.
In addition to being a musician, Marks is also a body-centered psychotherapist and community builder, who organizes her life around matters of the heart. A social architect, Marks has spent a lifetime creating intimate spaces for live music to thrive, spanning from Cafe Calhoun at Yale University to the Newton Festival of the Arts to the Natural Living Expo Jazz Cafe, to a monthly house concert series, the Music Salon, in her own living room. Inspired by her own experiences fusing family responsibilities and musical aspirations, Marks co-created The Women In Music Gathering, dedicated to supporting the emotional and professional needs of women musicians.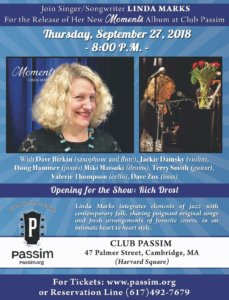 ABOUT LINDA MARKS
Linda Marks integrates elements of jazz with contemporary folk, sharing poignant original songs and fresh arrangements of favorite covers, in an intimate, heart-to-heart style. Over the past handful of years, Marks has played a wide variety of venues, from Scullers Jazz Club to Amazing Things Arts Center to Ryles to the Boston Public Library to the Newton Festival of the Arts. She has been featured on the National Public Radio show "All Things Considered" and the Boston Globe. Over the past three years, Marks has released four albums: Heart to Heart(2015), Coming Full Circle(2016), Say Yes to Love(2017) and Singer-Songwriter (2017), all done in collaboration with the phenomenal award-winning sound engineer, pianist, and composer Doug Hammer of DreamWorld Productions.
Follow Linda Marks On Twitter @lsmheart