The FMs Play New York City Pride by Eileen Shapiro
Amidst the colorful vibrancy that dazzled the streets of New York City on Sunday, June 24th during one of the biggest Pride celebrations in the world, the spectacular Goth group The FMs performed  live at Pride Fest. The crowds formed in front of the Get Out Magazine booth as the band created a frenzied havoc.
They were joined by San Francisco's awesome psyche band "Revolushn", Albanian superstar Durim Morina, British born pop recording star and Nightlife phenomena Aaron Paul, London's top gay singer and DJ, Jason Prince, and Nottingham sensation Sam Stevens, all accompanied by Nightlife's popular DJ Ian Ford. There was also a special appearance via Jasson Finney actor and fitness expert who appeared in Bianca Del Rio's film, "From Russia With Hate".
The FMs, (femmes, female to males, fuck me sillies), played with passion and fury in a performance that can only be described as riveting and compelling. The crowds fascination with the innovate lead singer/songwriter Matt Namer and co- lead singer Frances Rex went on for blocks. Their gender bending antics incorporate Glam rock, goth at its best laced with powerful planet saving messages combines with great music and audacious visuals.
Nearly causing a riot in the best possible way the band performed their popular songs while Namer's visual journey was worthy of a sold out stadium exhibition. Watch their new video and single "Extender".  If you missed their Pride debut, and have the opportunity to catch the Brooklyn based band around town, don't hesitate to visit the madness…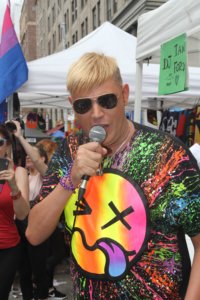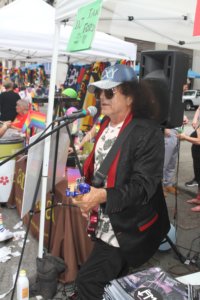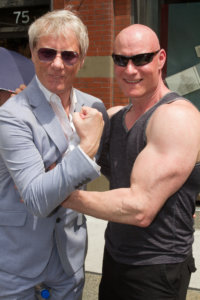 "Extender" by The FMs
Pictures by Billy Hess  http://www.billyhess.com