Paolo Fosso: Armonite by Eileen Shapiro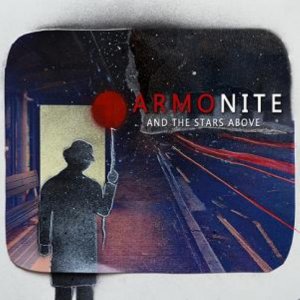 One of the most modern and prolific composers to arrive on the music scene is Paolo Fosso and , Armonite, an audacious and vibrant electronic band consisting of keyboards and violin. A compelling duo, Armonite is about to unveil their newest release entitled: And The Stars Above. The album is set to release this May via Cleopatra Records.
The duo consists of Paolo Fosso, the mastermind of Armonite, who has also composed the entire album, and is the keyboardist and Jacopo Bigi, on violin. The album is marked by a massive orgasmic rush of electronic instrumentals and some atmospheric vocals, and genre all it's own, although some would identify it as progressive rock. It's more of a sonic revelation, combined with an earthly sensibility.
I spoke with keyboardist and composer, Paolo Fosso, who is based in Milan, Italy. He was not only brilliant, but passionate about his artistry, and proud of his new release…..
As a trained and relevant composer, what promoted you or inspired you to choose the music industry, a very tough field, and then to record the very unique music that you release?

It's both a matter of attitude and technique. I've always been a keen observer and a frequent thinker, I take a giant step back into myself and watch everyone else go by, like from a window. Everything puts my mind in motion and when there's something worth of special attention, I need to portray it with music, which is the language I feel closer to. Then comes the technique, because I want to sound original but also transparent and comprehensible.
What influences your music the most?
Movies, technology, videogames, books, philosophy, travels. This is the most of me. When you read a book or watch a movie, imagination is stimulated and new ideas come to mind in a sort of domino effect. I'm a great lover of movies and TV series. Thinking of music like a sort of movie sequence helps me a lot when it comes to composition.
Whom are your own personal musical influences both now and growing up?

The Beatles, Deep Purple, Yes, Rush, EL&P, Jethro Tull, Queen, Metallica, Pantera, Nirvana, Foo Fighters, Dream Theater, Queensryche, Spock's Beard, Porcupine Tree, Yanni, Vangelis, Andrew Lloyd Weber – just to name a few that spring to mind, plus classical and world music as well. When I was 16, I listened to Dream Theater's 'Images and Words' for the first time. I'd been into classical music for more than 10 years at the time, and that was something new to me, a perfectly-fitting listen for my teenage years. That music totally changed my perspective.
Knowing what you know now, what advice would you give your younger self?

I have a really clear idea about this: Don't lose your time. Understand what you love the most, what you think you do best, and work hard to reach your goals. This is the trickiest part though, because everyday life will try to push you away from your natural gifts and talent is rarely sufficient to open the way for a career as a professional artist.
Tell me about your new release about to be unleashed to the world.

As with the previous album, And the Stars Aboveis an instrumental mix of electric violin, keyboards, bass, and drums. It's a journey through 12 tracks, starting with "The March of the Stars" inspired by Dante's Paradise and ending with "Ghosts". The album also features two bonus tracks – a polyrhythmic piece for piano solo, "The Fire Dancer", and the String Quartet "A Playful Day". Throughout the album, lingers a ghostly female voice, appearing and disappearing here and there before fully emerging in our first song with lyrics, "Clouds Collide". I'm confident this is going to be a great release, with a rather peculiar view.
What makes this new album different than the other music you've released?
The sound is more oriented to soundtrack music with textures that feel very immediate. "The Sun is New Each Day" had a heavy compact sound… And the Stars Aboveis groovy, with different vibes across a bunch of genres. There's something indie in this new sound that we've never explored before.
If you could tell your fans and followers anything, what would that be?
Support the music underground. Today's emerging bands need your attention more than before. Ten years ago, live clubs and venues were full of people. Now people prefer to watch a band on YouTube, many venues shut down, promoters are cautious, and the entire gigs market became uncertain. If you like a band, please follow their social networks, try to interact with them, and help them out with a concert maybe.
You have written all of the songs on your new album, what motivates your song writing?
Life and people offer a boundless supply of inspiration. Channeling concepts without the support of lyrics might be hard, but it's also very universal. Silence is a great enabler. The more you keep quiet and observe, the more you have something to say. I believe in the power of compression. All the forces supposed to be used externally first need to gather internally, so that they mature by compression and then, at a certain point, they blow up with maximum energy.
Is there a next project in the works yet?
Currently, I'm producing a few demo tracks for the movie industry. Scoring for film and TV is my absolute dream job. After the release of the new album, we're going to tour to promote our music. Then I will start composing for the next Armonite work.
What is your favorite thing about playing live?
Create a connection with your audience, vehicle yourself, talk about your feelings and your ideas behind music, and share it with your public. This is the most important thing for any artist.
ARMONITE
Website: http://www.armonite.com
Facebook: https://www.facebook.com/armonitemusic
Twitter: http://twitter.com/armonitemusic
Instagram:https://www.instagram.com/armonitemusic
Bandcamp:https://armonite.bandcamp.com
Soundcloud:https://soundcloud.com/armonite
YouTube:https://www.youtube.com/channel/UCc2jTstKBeJe0BI6o1pLGLA