Pop Star Aaron Paul To Host and Perform at Harlem Fashion Eclipse ll on September 1, 2018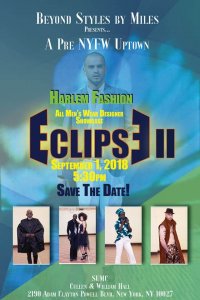 International pop-star, fashion icon, celebrity personality and author Aaron Paul kicks off this seasons NYFW as host and performing at Harlem's premier Fashion Show event, Harlem Fashion Eclipse ll. The entertaining and very stylish fashion cop for US Weekly Magazine Aaron Paul is a NYFW fan favorite. Aaron Paul will perform exclusively his new album 'Dance' and the history making new single "Lessons In Life, Love Music & Boybands" featuring the living legend Doctor Dre, on September 1, 2018, at Cullen Hall, 2190 Adam Clayton Powell Blvd. Harlem Fashion Eclipse ll is the brainchild of Harlem's entrepreneur, producer Daryl H. Miles. Daryl H. Miles has become a local favorite, while also including local businesses in his production. Harlem Fashion Eclipse ll will feature Kaarta Import/Export, a local community clothier and a special emphasis on local Harlem designers. With a growing momentum each NYFW season.
Mr. Miles launched Beyond Styles By Miles in 2015. He is a fashion industry innovator known in the tristate area for showing emerging designers and known designers, milliners, and models on runways. Specializing in fashion show coordination and production Mr. Miles continues to garner rave reviews by the notable Editor-In-Chief, Sofia Davis of Fashion Avenue News Magazine.
Mr. Miles is involved many community organizations. As a Board Member of Women In the Black, and a member of N.A.N., ACLU, New York Chapter of Black CEO's and Columbia Presbyterian Advisory Board Mr. Miles believes in giving back to the community and supporting local business. Daryl is also an Associate Representative for Legal Shield.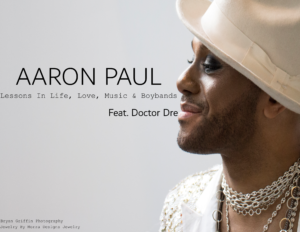 Mr Miles said, "I am pleased to have such a talented and well-rounded artist to highlight my production. Aaron Paul a world renown artist strong in his beliefs on life and embodies fashion like none other, is stylish, trendy and has flare for fashion coupled with music which he is passionate about. I know 'Lessons In Life, Love, Music and Boybands' with Dr. Dre is a lesson to us all."
Aaron Paul in response, "I am very excited to be a part of Harlem Fashion Eclipse ll. Harlem has always been a leader in influencing the world with its diverse fashion and culture. And Fashion Eclipse ll and Daryl H. Miles is once again continuing to put fashion in Harlem and on the world stage. I can't wait to perform my new song #LessonsInLifeLoveMusicAndBoybands. I've seen some of the these extremely talented and emerging designers and their lines. I can't wait to introduce Harlem's designers to the world of fashion. I am honored that Daryl H Miles has asked me to be a part of his great event. It's gonna be FABULOUS and a great night for the fashion Industry."
Featured Designers
The Doc Bongo
Michael Leon
Barron Wise
Evetta Petty
Terrence Tait
Errius Tanner (featured emerging designer from SC)
Sponsors
The Brownstone
Kaarta Import/Export
Harlem's Heaven Hat
Dewitt Clinton Express
You've bin Draped by Michael Leon
Barron Wise
Born Art Designer
Don't Miss This Incredible Event…..