Wendy Stuart and Guest Co-Host Jay Michaels Present TriVersity Talk! Wednesday 7 PM ET with Featured Guest Anthony Logan Cole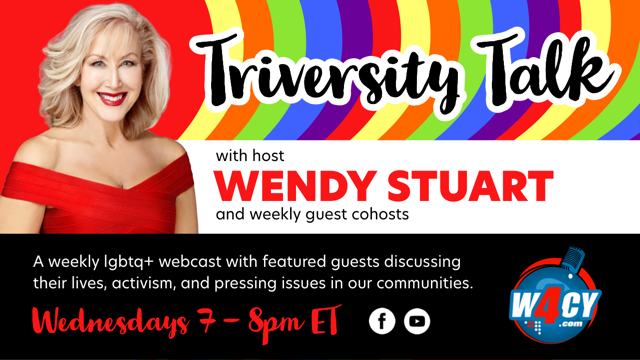 Wendy Stuart and guest co-host Jay Michaels will be hosting TriVersity Talk! this Wednesday at 7 PM ET with featured guest Anthony Logan Cole.
TriVersity Talk! is a weekly web series with featured guests discussing their lives, activism and pressing issues in the LGBTQ Community. With TriVersity Talk!, the goal is to laugh and learn.
TriVersity Talk! Is part of TriVersity's ICARE Initiative. ICARE stands for Increasing Community Awareness through Relevant Education. ICARE Programs are generously funded by The Greater Pike Community Foundation.
Jay Michaels is a producer/executive with a specialty in communications and promotion. He has been part of the independent theater and film movement since 1977 and was part of Lincoln Center's tribute to Caffe Cino and the original off-off Broadway movement in 1985. Before becoming an entrepreneur, he worked as an actor (stage and film) and director (off-Broadway) for many years, garnering accolades for helming new plays and musicals and a wildly successful series of Shakespeare plays sporting unique production schemes.
His career as a director/producer began as a member of the production staff for Hard Times, 1984, and Romulus Linney's Holy Ghosts at the Joyce Theater's American Theater series, which won a 1986 Drama Desk Award. He also served on the production staff of events featuring Eliot Feld, Meredith Monk, Pilobolus, and the Nicholas Brothers. He went to serve as a national tour manager for Les Miserables, Cats, Oliver, and Edwin Drood and a production associate at PBS for the special series, Increase the Peace.
As a stage & film producer, he worked with David Canary, Tovah Feldshuh, George Morfogen at the Pearl Theater; Adrienne Shelly and the Missing Children Theater, to name a few, at venues including the Perry Street Theater, Theater Off-Park, The Wild Project, LaMama, American Theater of Actors, and much of Theatre Row. He directed the final company of LINE at the 13th Street Playhouse.
His career as an executive in charge of promotion and marketing began on Broadway with Guys & Dolls (1992) and continued with Damn Yankees (1994), The Vagina Monologues (2005) and recently with Beginnings (2017). He served on the promotional staff for The Daily News, producing events at Lincoln Center, Madison Square Garden, and Atlantic City. He served as copywriter for Bob Hope at Carnegie Hall featuring Skitch Henderson and his orchestra.
As senior marketing executive for an international philanthropy, he produced large scale events at which he also served as speech writer and coach to dignitaries including James Earl Jones, Jon Stewart, Rocco Landesman, Barry Weissler, and Hillary Clinton.
Continuing in marketing and promotion creating campaigns including social media, web content composition and management, and graphic design for Luxury Universal Experience, Diamonds.net, Novoe Russkoe Slovo, among others.
In 1997, he opened a nonprofit arts & education organization: Genesis Repertory, founded with Mary Elizabeth Micari, this non-profit arts organization is dedicated to creating opportunities for young and emerging artists on stage and in film & TV. He also fostered its promotional arm: JMC: Channel I – a network of programs featuring – and dedicated to – independent artists. Under the banner of JMC, he created visibility for more than 300 productions in New York City and led the promotional teams for most of NY's leading theatre festivals including MITF, Planet Connections, DUAF, Spotlight, Fresh Fruit Festival, as well as individual productions at festivals including The Fringe, FRIGID, Broadway Bound, and others. Jay lectures around the tri-state area in theater, communications, public relations, and media culture and sits on the Boards of Pace University's Remote Learning Division; CLASP (CUNY League of Active Speech Professors); and M Center for the Arts. A noted genre film and television historian, Jay hosts numerous television programs including Terror Talk, Indie Influencer, and In The PassionPit. He can also be found producing/presiding conventions including Phoenix FearCon and Boston Sci-Fi Film Festival. His latest endeavor is a content manager and on-camera personality for FearCon Terror-Vision on CTYC-TV. He is also a published writer and reviewer.
Anthony Logan Cole AKA Mister Dusty Rose is the Mysterious Gentleman Of Variety. He came to New York to become a Broadway performer but fell sideways into a world of mind readers, mystics, and charlatans. He toured the UK with the immersive Ghost Show and regularly appears at Taste Of Magic, Cocktails and Cabaret, Times Square Magic, among others.

As the Impresario of The Rose Room, he brings his loves of magic, theatre, and circus to this unique space.
Watch TriVersity Talk! Live on Wednesday at 7 PM ET on Youtube here:
The official website for the TriVersity Center may be found at https://www.triversitycenter.org
Subscribe and listen to TriVersity Talk! on Apple Podcasts/iTunes here: