CeCe Peniston: "Live At Joe'sPub in New York City 4/11/19 "
CeCe Peniston, a name that will live on forever for her anthemic song, "Finally", stole the hearts, touched the lives and rocked the house at the famous venue Joe's Pub in Manhattan, as opening talent honoring the "Downtown Urban Arts Festival." The sold out venue was brought to their feet several times during the vibrant and orgasmic performance of the dazzling superstar who clearly owned center stage, and a small part of the planet.

When asked what the evening meant to her the sparkling enchantress responded, "Elevation and Blessings", and elevated she was to the highest realm of effervescence and passion. Recognized as one of the most iconic dance club artists in the history of US Billboard Hot Dance Music/Club Play Charts, having 5 number one hits in three years. Her song "Finally", still one of the biggest dance hits ever, sold more than 3 million copies globally. Having the honor of singing for The Pope, and singing at Aretha Franklin's birthday, CeCe continues an iconic career.

Ms. Peniston danced onto the stage wearing glittering fashion, complimenting her beauty and her vivacious performance….and that girl can sing! Accompanied by singer Dawn Tallman, The Queen of Gospel singing background, DJ Iman, and two salacious dancers, CeCe performed hit after hit, with the congregation singing along. She brought members of the audience on stage to dance, and visited the fans on the floor as well. Animated, blessed and very appreciative of her fans it felt as though everyone who came out to see her was somehow included in the show.

At one point during her showcase CeCe read a poem that she wrote about her own personal story. It was only her second time reading it in front of the masses, and it sent instant chills down
the spines of all, bringing an emotional tear to many……

"You've only seen the look of happiness in every picture that I take. But never saw what was behind the smile in the morning when I wake. You never saw the depression, the pills and the alcohol, or me tryna take my life in the middle of it all. Or the times I lost my confidence when the star began to fall. And the devil was in my ear saying, you ain't shit at all"….CeCe Peniston. A small excerpt from a very authentic, courageous and talented artist….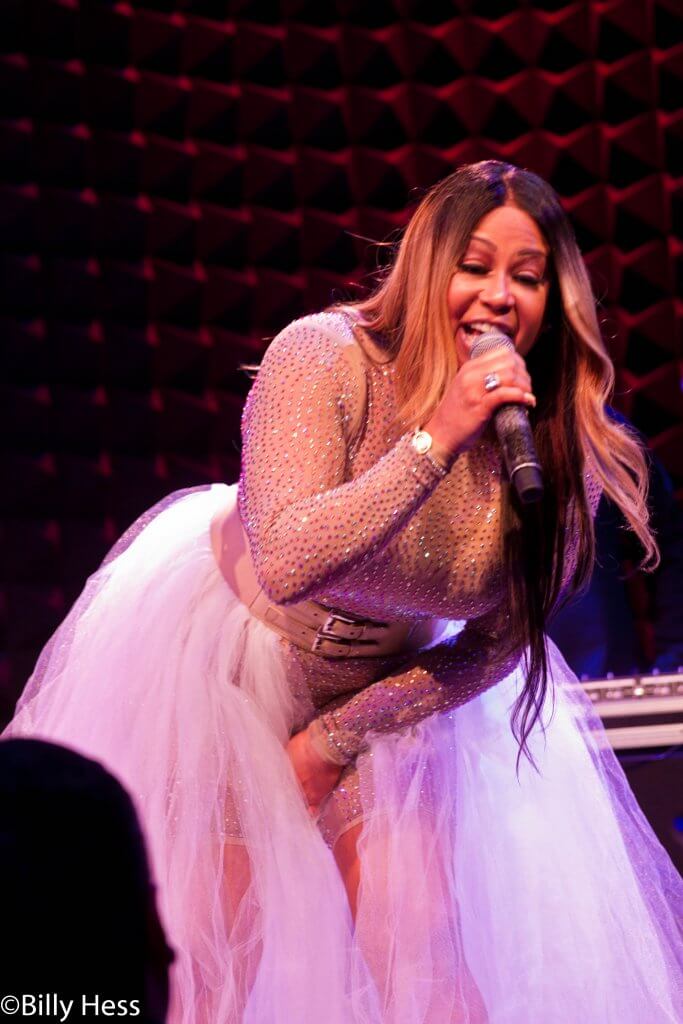 Her newest song recently released, "Are You Ready", a hot track bound to be a sensation, which caused the audience to again rise and dance in the aisles. When she closed the show with the hottest song on the planet, "Finally", all hell broke loose! CeCe is again a force to be reckoned with and it is a joy to see her victoriously back out in front in the limelight!!

The Downtown Urban Arts Festival chose CeCe to open the festival, which was a a great honor and a spectacular decision. I spoke with coordinator Raisa Mendoza, and she stated, "Some of the events we have is our opener with CeCe Peniston at Joe's Pub. It's going to be the first show in our music section. Then we have a full poetry slam lined up for next week. Then after that we will be having our fabulous playwright's showcase their plays. Last but not least is our film section. So, it's a five-week multi-disciplinary event showcasing some of the best art from an urban perspective. It's really giving New Yorkers is a real treat and a break from Main Street Broadway."

I would also love to mention CeCe's opening act for the evening, poet, actress and AUDELCO winning writer, Helena D. Lewis. She was absolutely passionate and brilliant as she performed three of her original poems.


It was definitely a grand evening, a blast for all present. Currently CeCe will be touring all over and I recommend to the highest extent, go experience a magnificent talent!!
Photos by Billy Hess https://www.billyhess.com