Charles Busch Guests On "If These Walls Could Talk" With Hosts Wendy Stuart and Tym Moss Wednesday, November 22nd, 2023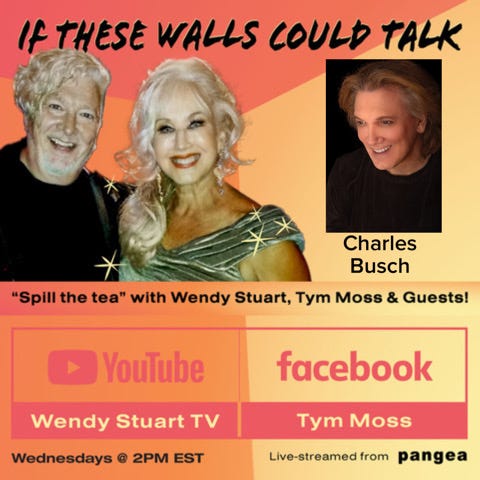 Who else but hosts Wendy Stuart and Tym Moss could "spill the tea"on their weekly show "If These Walls Could Talk" live from Pangea Restaurant on the Lower Eastside of NYC, with their unique style of honest, and emotional interviews, sharing the fascinating backstory of celebrities, entertainers, recording artists, writers and artists and bringing their audience along for a fantastic ride.
Charles Busch will be a featured guest on "If These Walls Could Talk" with hosts Wendy Stuart and Tym Moss on Wednesday, November 22nd, 2023 at 2 PM ET live from the infamous Pangea Restaurant in a replay of this incredible talented guest and episode.
Wendy Stuart is an author, celebrity interviewer, model, filmmaker and along with If These Walls Could Talk she hosts TriVersity Talk, a weekly web series with featured guests discussing their lives, activism and pressing issues in the LGBTQ Community.
Tym Moss is a popular NYC singer, actor, and radio/tv host who recently starred in the hit indie film "JUNK" to critical acclaim.
CHARLES BUSCH is the author and star of such plays as The Divine Sister, The Confession of Lily Dare, Vampire Lesbians of Sodom, one of the longest running plays in the history of Off-Broadway and The Tale of the Allergist's Wife, which ran for nearly two years on Broadway and received a Tony nomination for Best Play. He wrote and starred in the film versions of his plays, Psycho Beach Party and Die Mommie Die, the latter of which won him the Best Performance Award at the Sundance Film Festival. Mr. Busch is a recipient of a special Drama Desk Award for career achievement as both performer and playwright and the Dramatist's Guild has honored him with the Flora Roberts Award for sustained commitment to the theatre.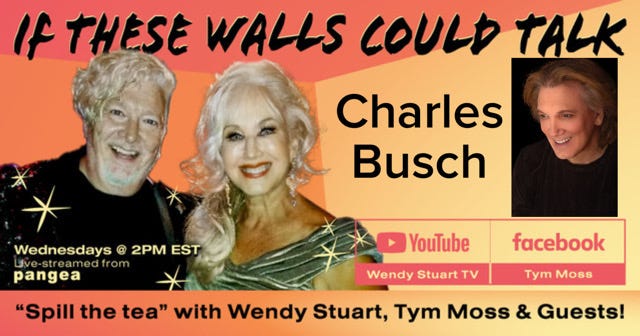 Charles Busch recently released his memoir Leading Lady which is a poignant, deliciously anecdotal account of a talented artist's Oz-like journey in the worlds of Off-Broadway, Broadway, and Hollywood. Charles Busch has created a unique place in the entertainment world as a playwright, LGBT icon, drag actor, director, and cabaret performer, with his extraordinary gift for both connecting with and channeling the leading ladies of show business.
Order your copy of "Leading Lady: A Memoir of a Most Unusual Boy" on Amazon here:
The official website for Charles Busch may be found at https://www.charlesbusch.com
Watch Charles Busch on "If These Walls Could Talk" with hosts Wendy Stuart and Tym Moss on YouTube here:
Subscribe and listen to "If These Walls Could Talk" on Apple Podcasts/iTunes here:
https://podcasts.apple.com/us/podcast/if-these-walls-could-talk/id1561221158