Interview: Santa Claus
Aside from God, Jesus, and the Devil the most famous man on the planet is none other than Santa Claus. The real reason for the season is the traditions, the sharing, and the believing Santa……and let's face it….the presents. Santa's charm is undeniable even if it's been a few years since he's wiggled his way down your chimney. Regardless Jolly Old Saint Nick certainly has something to teach us about the generosity and the spirit of Christmas and the gathering of the things that matter the most.
This year Santa can be found during his pre-Christmas rush in the heart of New York City along with a Christmas gift to all in the form of AniMaze X a heavy metal band with a twist focusing on a wide authority of music theme such as superheroes, popular cartoons, Broadway musicals, movie soundtracks and their own classics. Recently featured on Wonderama, AniMaze X performs with a live theatrical style offering something for everyone in the family especially children.
Santa, Redwood Entertainment, and MD25 as producers will be presenting AniMazing Xmas from December 16th to December 30th at The Theater Center located at 210 W. 50th St. in Manhattan. Each show will begin at 11 AM with guest appearances from Santa himself. I was fortunate to be able to have a conversation with Santa himself…
Santa what inspires you most being Santa Claus?
The kids need some joy. They need it more than ever, we need joy. I try to get out there as much as possible. This year instead of just Christmas Eve, I'm here in New York City bringing joy 24/7. We're going to be out there in the morning for the next couple of weeks with AniMaze X.
How many elves do you have Santa?
Oh my gosh, I lose count. I mean there are millions of those little guys. They are all over the place.
Santa you've decide to visit the AniMazing Christmas show and meet all the children who come?
I can't wait. I really like their masks. Have you seen them? They are so cool. The music too, I mean its great music. I know they're going to sing my favorite song "Santa Claus is Coming to Town."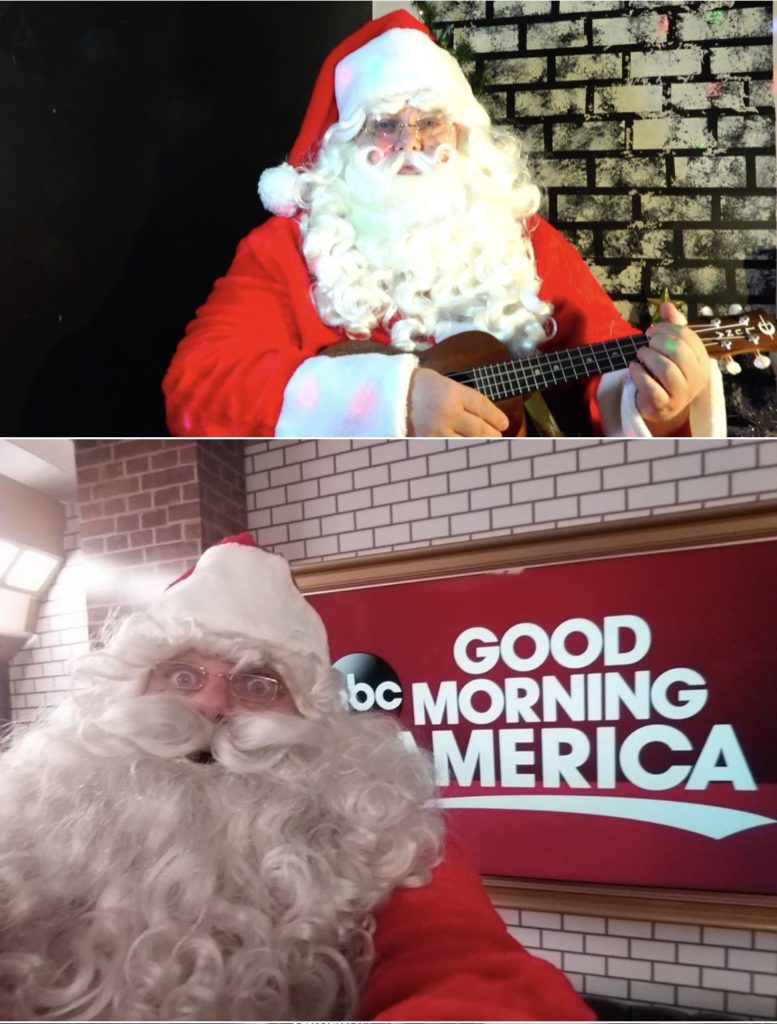 So Santa I'm sure you are really busy this time of year, so how are you taking time off of your busy schedule to visit New York and AniMae X?
Non-stop! You know the secret on Christmas Eve right? I actually stop time. When all the children are sleeping through Magic I stop time. It takes me four years to go around the world on Christmas Eve, but for you guys it's just a few hours. For me I stop time, I get around the world and then I go home and sleep. I actually kind of stopped time for myself. Time works differently in the North Pole. It's like the Rocky Horror Picture Show, we do the "Time Warp" again a few times and we see what happens. We make time for the children.
Who is your favorite reindeer?
That's a tough one…I think Donner. Donner has always been a favorite. Some of them have a bad rap because of that Rudolph movie. That was a bad rap they didn't bully Rudolph.
Do you know the Macy's Santa? You must have given him some pointers because he looks like the real deal.
Yes… He's not so bad. He gets to go in the parade, he's upstairs in Santa's Village. I think they do it right now.
What determines "naughty and nice" for you?
It's a gray area. There's certain things. I started putting green energy for a while but I started doing the coal thing again, especially in the last four years. But the more you treat others the way you wanna be treated, I think that's the classic tale… I think you have to listen more because we're always talking, talking, talking… But it's good to listen to people about what they really need and want. I always say lead by example. Lead with a smile because you want the rest of the world to smile at you. If you start with a smile it's amazing how many more people smile back at you.
You get a lot of letters Santa from kids all over the world. Do you read them all?
I try to get through them all. Mrs. Claus helps but we have millions of elves. If anyone needs extra help I definitely take care of those personally. We have a whole team so that helps as well and you know I check the list twice.
What's the cutoff date Age wise for receiving presents from Santa?
I don't think there is an age limit. I bring presents to the grandparents. No one is too old for Santa.
And what do you say to the kids that don't believe?
Even if you don't believe in me….I still believe in you.