Wendy Stuart Kaplan "Unforgettable"
Unforgettable, effervescent, animated, positive, kind…..all of these words of positivity and many more describe model, actress, activist, director, tv host and author, Wendy Stuart Kaplan. The old expression, "to know her is to love her" rings true to those who are lucky enough to meet her. For those who aren't acquainted with her yet, or familiar with Wendy, I have exchanged questions and answers with her. She has a lot to say, and all of it is good!
You are a superhero what are your superpowers and why?

I am definitely Wonder Woman. I go at 100 miles an hour and am constantly in motion getting things done. Those things range from in a given week shooting "Pandemic Cooking With Wendy" which besides performing in it, I have to come up with the theme, buy the food I'm making, coordinating my costumes and makeup, it's a lot! The other show I host TriVersity Talk I find the guest, get info about who they are and what they've done then create ideas for questions that will be entertaining and informative to anyone watching. I usually have a few modeling jobs every week, follow up comments from my shows, put together small social safe get togethers since Covid has people socially apart, so to me, seeing people you know, outside with a mask is something that is definitely needed. I also take care of two rabbits, a cockatoo, and a very needy long haired chihuahua, and a needy husband. Not to mention 5 gay husbands. Yes, I'm superwoman!!! The reason I do all this is because I've got a ton of energy and I can get a lot accomplished!

What message would you send out to the world?

I am Woman Hear Me Roar! I'm fierce, determined and once I decide to do something no one can stop me. I'm not afraid to fail, and have no issue taking calculated risks, once I've examined the pros and cons. What you see is what you get or what has been called Wendy Realness. If I'm your friend there is no one more loyal, and I will go to the ends of the earth for you. Anyone who crosses me and I find out? Let's just say it's gonna be ugly. That being said I want the world to understand that we need each other as human beings more than ever. This Pandemic was a huge game changer. Be kind to people and realize you can't take on the whole world and make a difference but you can touch one individual at a time. Word.

Going back in time what character would you like to be and why?
Dr Doolittle. I have an incredible love for animals… all animals! I live with a chihuahua, a cockatoo and two English Angora Rabbits. They are all loose and all litter trained. I don't cage anything. All my animals are wild and free like me! I can "talk to the animals". I often can anticipate their next move or know what they're thinking. If a dog walker passes me in the street with a pack of dogs on leashes, at least half of them will make eye contact with me. They know that I know….

The soundtrack of your life is just released. What songs are on it and why?

Dancing Queen – because I love dancing more than anything. If the music is amazing, I will spend the night on the dance floor and be the last to leave.

Lola – really describes my experience with drag queens and transsexual people. I am like a magnet. No matter where I go, I always end up meeting and hanging out with them. They often end up becoming close friends. I love that1
Ya Gotta Have A Gimmick -I've always believed you need a hook, something that makes you stand out from everyone else in order to succeed.
What I Did For Love – I am like so many performers and entertainers totally driven. Being rejected or not landing a role only makes me try harder. I've sacrificed a lot to stay in the entertainment and modeling world, but I did it because I love it.

Born This Way – I won't ever make excuses for my quirky personality, or the fact that humor defines who I am. I will always look for the bright side no matter what. And if you don't get my personality, well that's okay, because what you see is what is there because I was born this way. If someone says are you for real I can only answer the truth…..yes….

I'm Still Dancing On My Own – What a metaphor for me! I still dance alone if I hear a great song and have to move but even more than that, I feel not everyone will always understand what I am trying to do and I realize to get to where I'm trying to go it's up to me!

Do you believe that music has the power to change the world?

Yes!!!!! Music brings people together. It is like an outside force that drawers you in, and can impact you in a very emotional way. It allows us as people to listen to something together to share a commonality. That being said it is a thread that binds people together. Who doesn't like some kind of music. Ever culture in the world has music. It is universal. It connects us….

What would you do to influence the world?

I'm doing it! I'm getting my message out there with Pandemic Cooking With Wendy and Triversity Talk. On Pandemic I entertain which is a huge part of who I am; someone who loves to uplift, spread the joy and make people laugh. Triversity Talk is an extension of the LGBTQ organization I helped start and have been on the board of and again entertaining our community with fun events. Because of COVID we can't do live events but through our show I am able to host a weekly livestream with our executive director Steven Teague. Our guests are all in the LGBTQ community and have run the range from politics, to religious figures,, to actors, a gender assignment recovery nurse, comedian, film maker, and two dads who discussed adopting their sons from the foster to adopt program. The show definitely has my point of view and information I want to share branded all over it. Again, it's totally entertaining. I believe if people are engaged in what they are seeing they will remember it. The documentaries I've made "Fragile Beauty" and "Whisperers and Witnesses" explore both threatened cultures and threatened wildlife. Creating projects like these can influence the world because they advocate, educate, and entertain.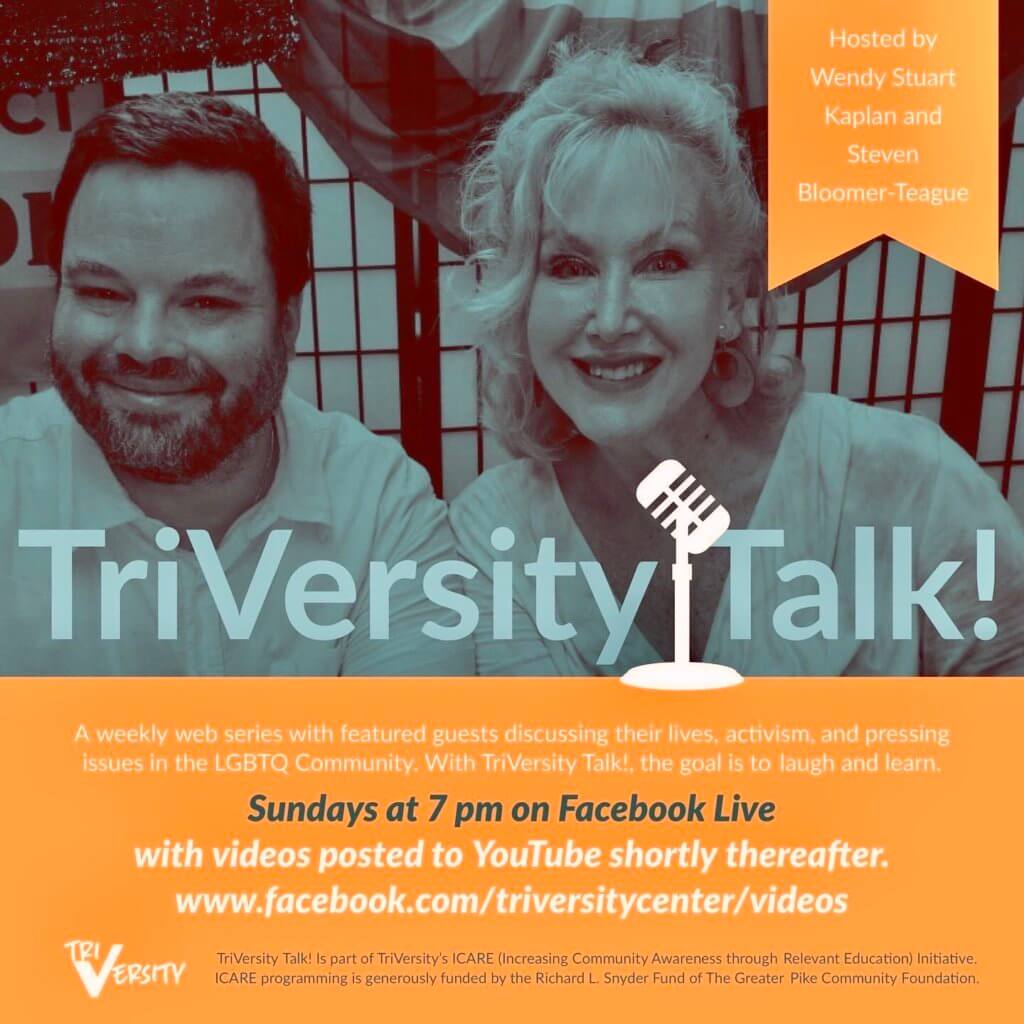 What's Next For Wendy?

Our newest documentary "Working Dogs:A Love Story" was set to be in final edits when I realized that I had to add in another section, that did not exist when I started. Namely COVID 19 and the amount of people who got dogs during the pandemic. Because they needed to be grounded emotionally, experience unconditional love, and often the only physical connection at this time was their dog. So, I'm currently shooting that part of the film now. You can't tell a story about service and therapy dogs, without talking about regular dogs who are performing service and therapy every day during this pandemic by offering comfort and support to their person. I am being asked more and more to be a guest on livestream shows and radio, where I get to share my beauty philosophies, my cooking experience, discuss my book, and offer expert advice on anything. I have a great time doing it. And of course, I continue to do modeling jobs, and host panels but now it's on Zoom and Streamyard instead of live conferences. My life is so very different because of COVID And yet I have to say that COVID forced Me to grow in ways that were unimaginable. And I'm loving it….
The official website for Wendy Stuart Kaplan may be found at https://www.wendystuarttv.com