Wendy Stuart and Guest Co-Host Tym Moss Present Triversity Talk Wednesday 7 PM ET With Featured Guest Brian Alejandro Scott 
Wendy Stuart and guest co-host Tym Moss will be hosting TriVersity Talk this Wednesday at 7 PM ET with featured guest Brian Alejandro Scott.
TriVersity Talk! is a weekly web series with featured guests discussing their lives, activism and pressing issues in the LGBTQ Community. With TriVersity Talk!, the goal is to laugh and learn.
TriVersity Talk! Is part of TriVersity's ICARE Initiative. ICARE stands for Increasing Community Awareness through Relevant Education. ICARE Programs are generously funded by The Greater Pike Community Foundation.
TYM MOSS is one of New York City's most dynamic performers. This Singer/Actor/Host is a legitimate movie star (He stars in JUNK a full feature musical film)
TYM also has a critically acclaimed Cabaret show he has taken across the USA.
He co-hosts a weekly talk show with Wendy Stuart called If These Walls Could Talk.
TYM MOSS also covers red carpet events and performs on stages around NYC. He is also an LGBT Activist.
You can find and follow him on all Social Media platforms at TYM MOSS.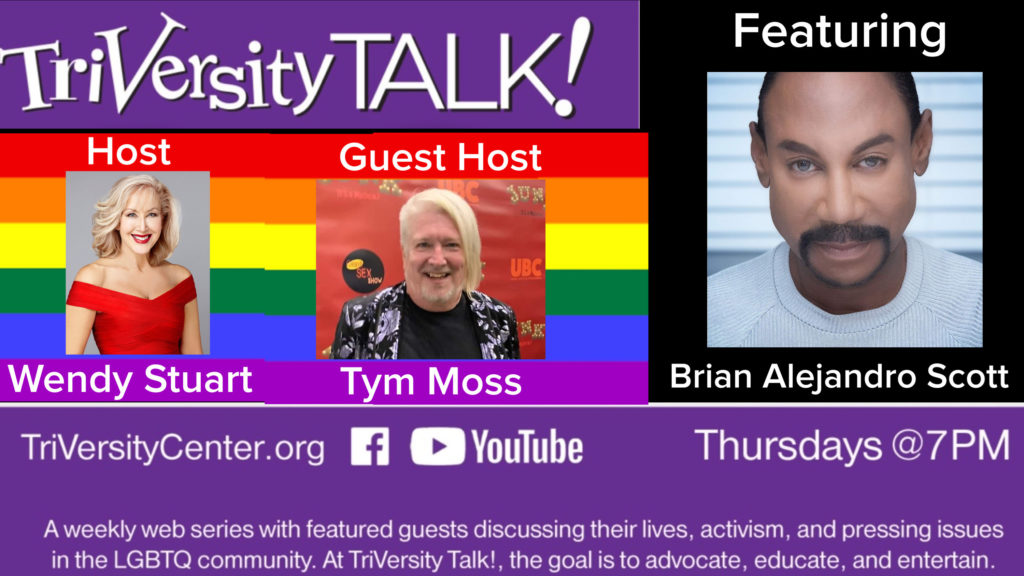 Brian Alejandro, originally from the United Kingdom of Panamanian heritage has always worn many hats. As a graduate of Hampton University, where he studied Pre-Med Communication Disorders, he started a modeling group known as "La Verve Models," many of whom went on to have international success. In addition to acting and dance, Brian Alejandro pursued a master's degree in Speech & Language Pathology at New York University and later received bilingual (Spanish) certification from Marymount College.
Whilst working as a Bilingual Speech & Language Pathologist in the East Village, Brian Alejandro formed a children's dance company, known as The Experimental Dance Group (www.experimentaldancegroup.com)based on the Katherine Dunham Technique and was active for 18 years.
Having studied the Katherine Dunham Technique under Miss Joan Peters and Eugene "Snakehips" James, Brian Alejandro was a principal dancer for the Eugene James Dance Company for 10 years, performing Off-Broadway (Theater Row) and at other entertainment venues throughout NYC. His one-man cabaret show, "Stories from Las Vegas," recently debuted to a sold-out audience at the East Village supper club Pangea.
Watch TriVersity Talk! Live on Wednesday at 7 PM ET on Youtube here:
Subscribe and listen to TriVersity Talk! On Apple Podcasts/iTunes here:
https://podcasts.apple.com/us/podcast/triversity-talk/id1614158419
The official website for the TriVersity Center may be found at https://www.triversitycenter.org